Marnie's Favorites: Dreamy Bedrooms
BY: Marnie Oursler
---
When we think of home, we think of sanctuary – a place we can retreat to when the world has beaten us down and tired us out. Home is warmth, comfort, and serenity. It's safety, stability, and a cocoon in which we can grow, change, improve, reflect, relax, or simply hide from our troubles. And there's no room in the house that embodies those characteristics more than the bedroom.
Designing a home is an exhilarating process. From building your dream kitchen, to creating seamless indoor-outdoor spaces, to deciding what type of exterior we want to show the world, there are so many exciting steps. But the bedroom is sometimes overlooked. It may not have as many decisions associated with it as a bathroom, or the amenities of a kitchen, but the bedroom is arguably the most important room of the house. It should be your private haven, and it should function for the way you live. Designing or decorating your bedroom is an important part of self-care; a restful mind requires a restful retreat.
Feel like your bedroom isn't living up to the task? I've rounded up some of my favorite dreamy bedrooms that I've designed and built to inspire you to put the sweet back into your master suite.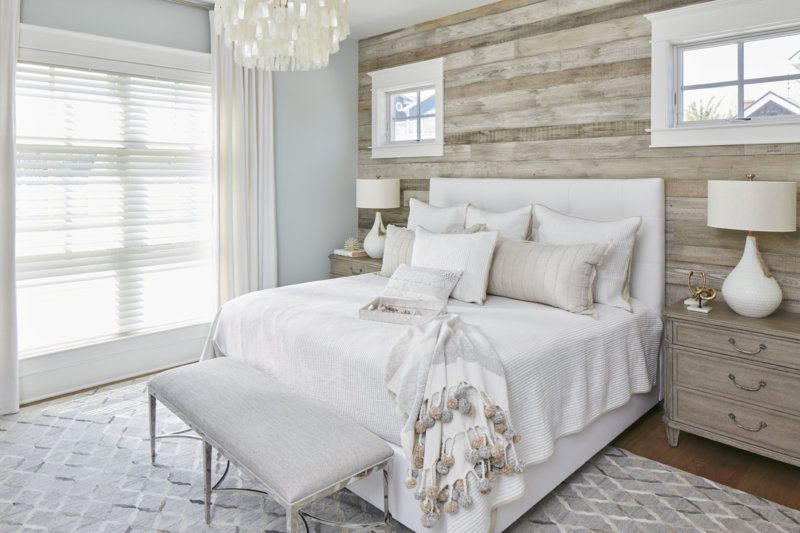 WHITE + WONDERFUL
A monochromatic palette goes a long way in creating a calming space. Just be sure to do what this homeowner did and warm things up with different tones, plenty of wood, and lots of texture.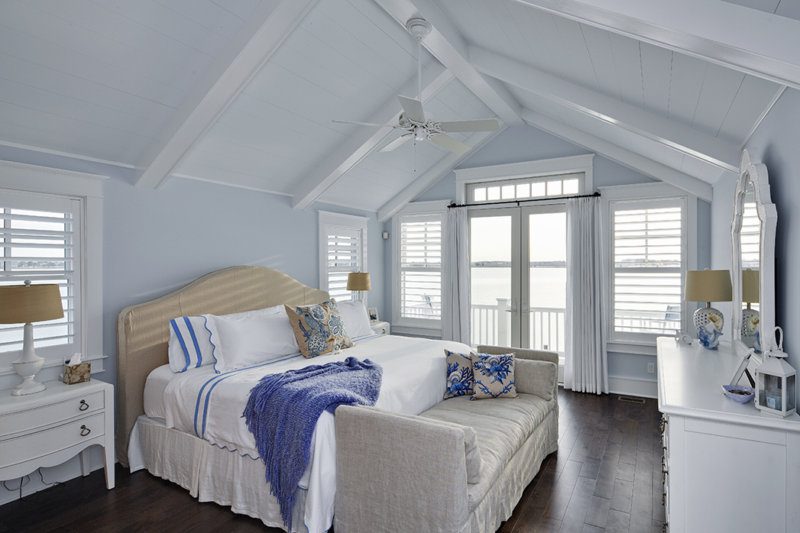 INSPIRED BY NATURE
When you let Mother Nature take the reins, you can never go wrong. Take a cue from what's outside your window – in this case, sea and sky – and use it to infuse your bedroom with the serenity of the great outdoors.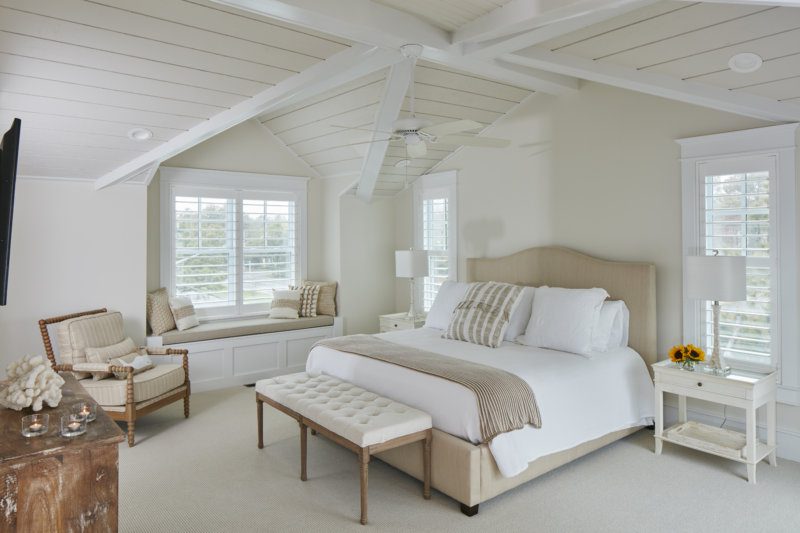 PLACES TO PLOP
Give yourself plenty of places to kick up your feet and you'll get more use out of your bedroom than just sleeping. A cozy built-in window seat, a tufted bench, and an inviting accent chair give these homeowners plenty of options for plopping.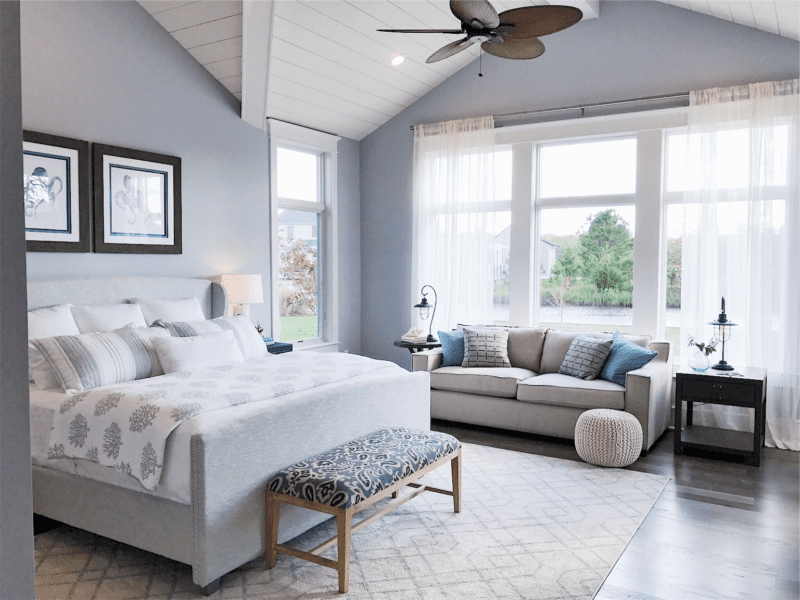 CLOUD NINE
Life is heavy enough – your bedroom shouldn't be. Let in as much natural light as possible, raise the ceilings, and keep furnishings low profile to make your bedroom feel like it's floating.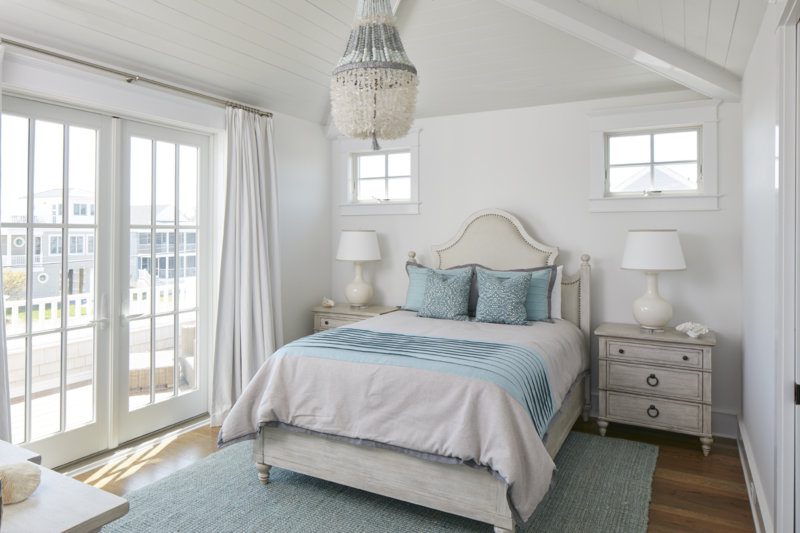 LIGHT IT UP
Statement lighting isn't just for the dining room. Try out a daring pendant, bold chandelier, unusual sconces, or other non-traditional bedroom lighting to put a smile on your face every time you walk in the room.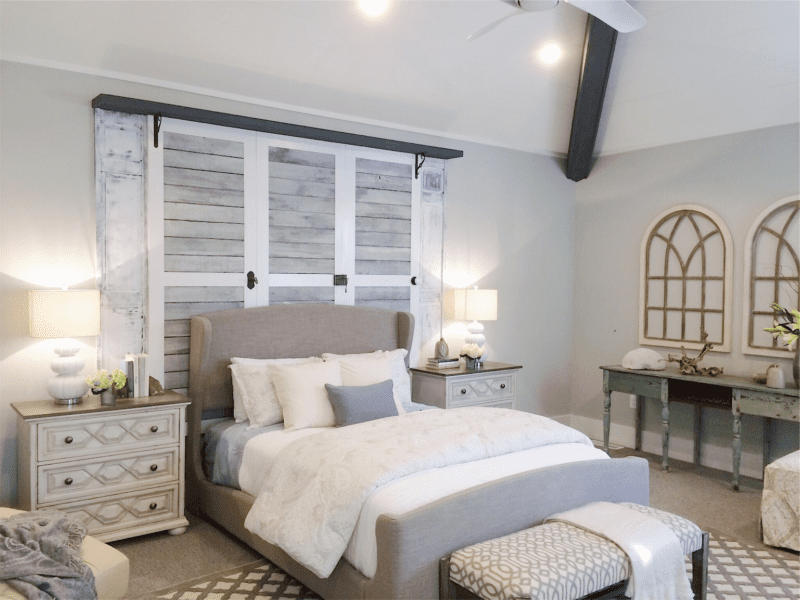 PLENTY OF HEADROOM
Your bed should be the focal point of your bedroom. A large or unique headboard – like this one made from salvaged doors – is a surefire way to create an inviting bed that beckons to you each and every night.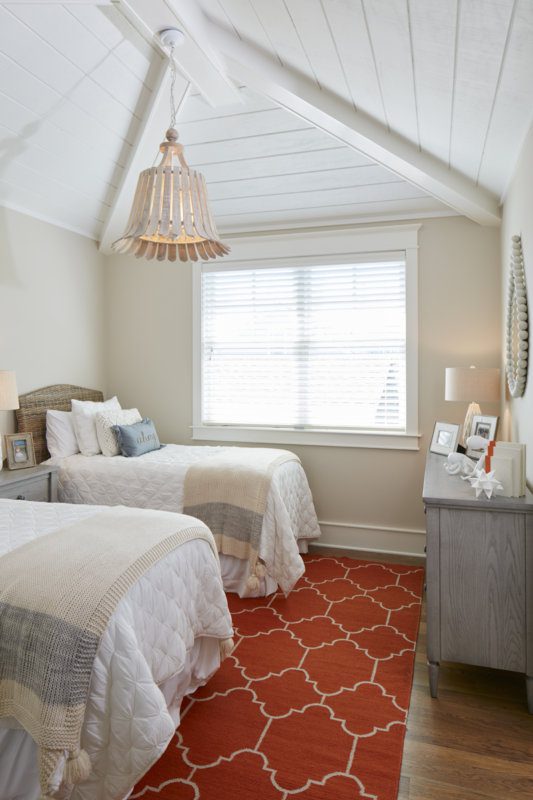 SEEING DOUBLE
Master bedrooms shouldn't get to have all the fun. Make guests feel right at home with a more versatile guest bedroom that features two twin or full beds instead of one queen (TIP: Push the beds together when a couple spends the night).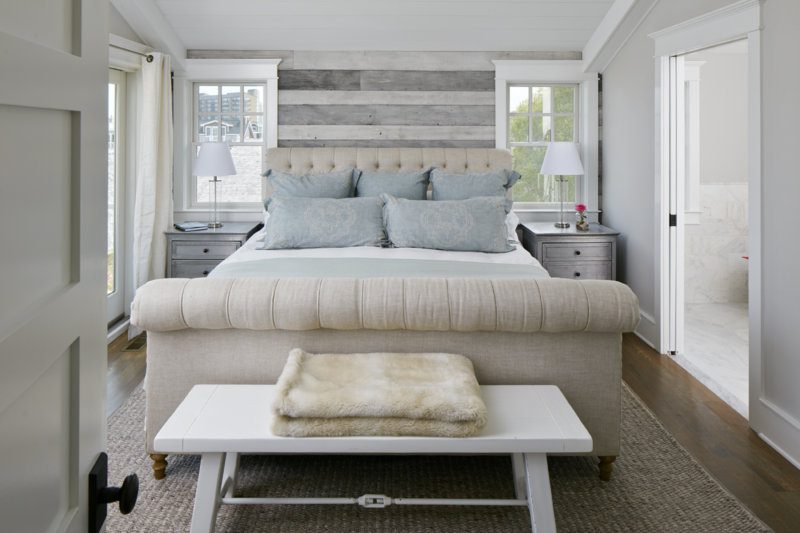 LUSH + LUXE
If you're going to splurge anywhere in your bedroom, go all out with a luxurious bed. This rolled and tufted version feels indulgent and requires little else by the way of decor to make this room a showstopper.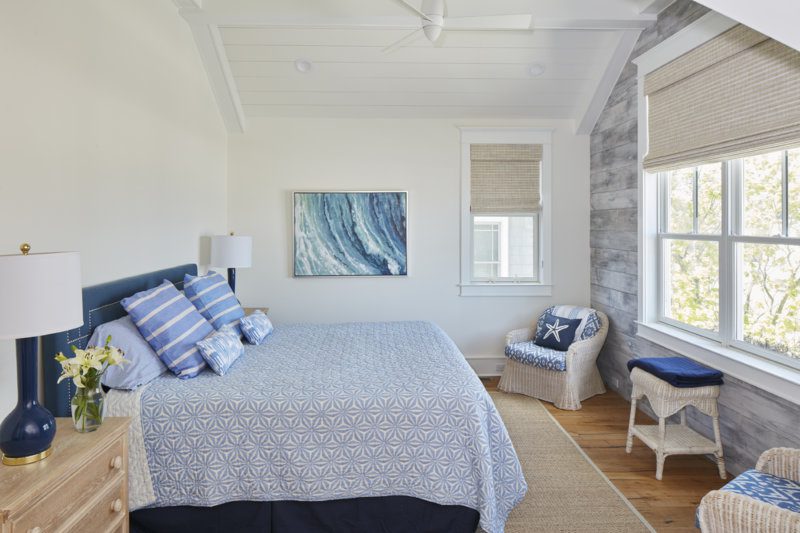 TAKE IN THE VIEWS
Give yourself the best seat in the house by positioning your bed to face the views outside your window. A bedroom like this one offers a stunning backdrop for dozing off each night and waking up each morning.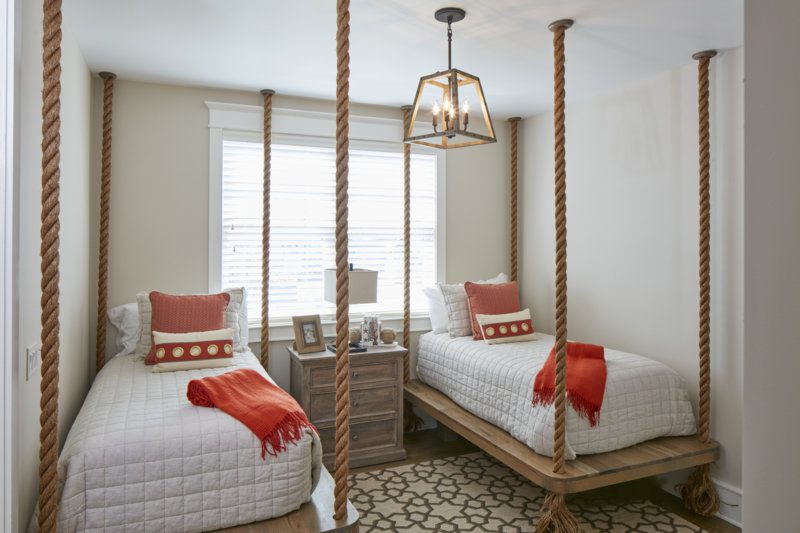 HANG IN THERE
A guest bedroom is the perfect place to think outside the box. Set the tone for your visitors by creating a whimsical escape where they, too, can forget their troubles for a while.
WOODSY WONDERLAND
Take advantage of distinct architectural elements – like pitched ceilings – by creating a focal wall with rustic wood that draws the eye up and highlights the unique lines of your bedroom.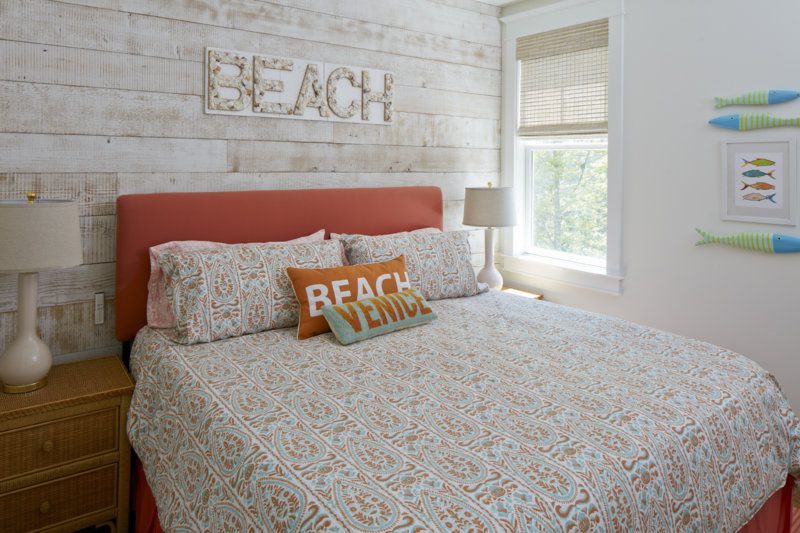 SMALL SPACE, BIG STYLE
You don't need a ton of square footage to create an inviting bedroom. A textured accent wall, fun colors, and cheerful decor and patterns make this space a pleasure to behold.
NOOKS + CRANNIES
Make your bedroom feel extra cozy by placing your bed inside a niche. The closeness of the three walls around this bed provide the sensation of being wrapped in a warm blanket.
KEEP IT NATURAL
I love to paint wood wall paneling in bright whites, but there's something extra soothing about being surrounded by natural, knotty wood. This space almost feels like being in a treehouse or a cabin.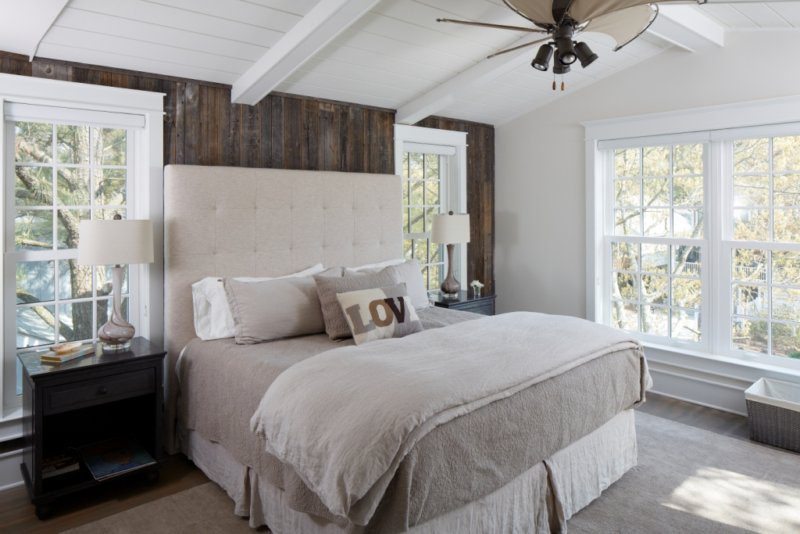 ALL IN THE DETAILS
You spend much of your life in your bedroom, so make it feel special. Details like trim and molding on the windows and walls, or exposed beams and a simple wood treatment on the ceiling are evidence of the time and care put into this space. Take care of your bedroom, and it will take care of you!
To sweet dreaming,