Marnie's Favorites: Crave-Worthy Kitchens
BY: Marnie Oursler
---
If you've heard it once, you've heard it a thousand times – the kitchen is the heart of the home. And it's true – it's where days begin and end, where meals are prepared and consumed, where homework is done, important decisions are made, and where family and friends inevitably gather. The kitchen does for our soul what food does for our body – it nourishes, comforts, and feeds whatever it is we crave.
It's no wonder, then, that designing a kitchen is a highly personal process. From layout and spatial planning, to selecting appliances and cabinetry, to choosing hardware, tile, and finishes, the kitchen is an expression of who we are, what we value, and how we see the world. Some kitchens are utilitarian workhorses; some are all about entertaining; and others still are about creating moments of coziness with loved ones. Whatever type of kitchen you crave, make sure it works for you and your lifestyle. A little investment here goes a long way, and it's one of the few home improvements that will actually pay for itself in home value. Below, some of my favorite kitchen builds to inspire you to put the heart back into the heart of your home.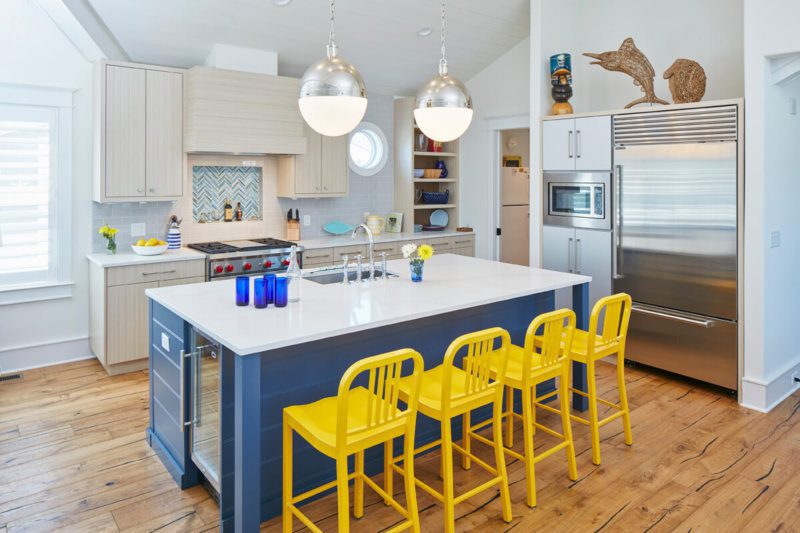 POP OF COLOR
White kitchens are classic, but for those who live life in the fun lane, a few strategic pops of color go a long way. This kitchen's bold island, bright stools, and colorful stove backsplash tile will put a smile on anyone's face.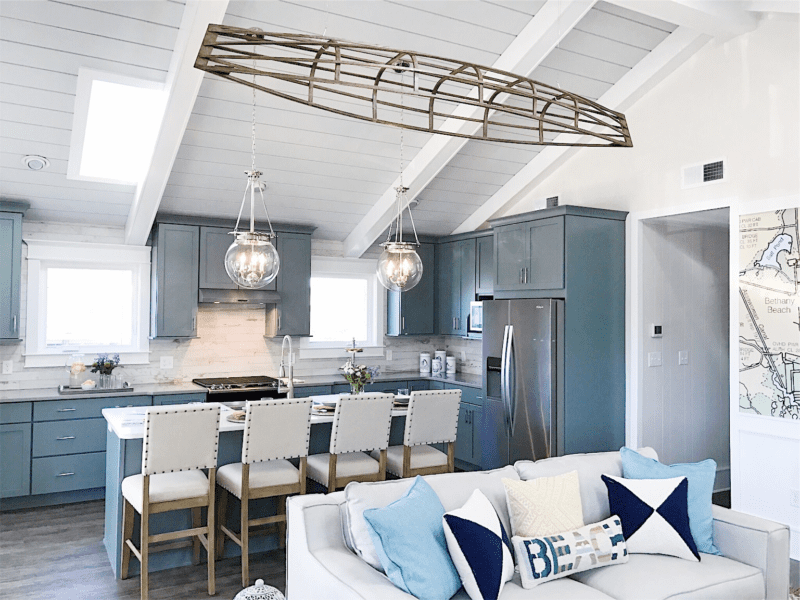 SMOOTH SAILING
The kitchen doesn't have to be all about function. Add some form with an eye-catching structural piece, like this boat suspended from the ceiling. A single, large piece often has more impact than a bunch of smaller accessories, so you can go big and bold while still keeping your workspace clutter-free.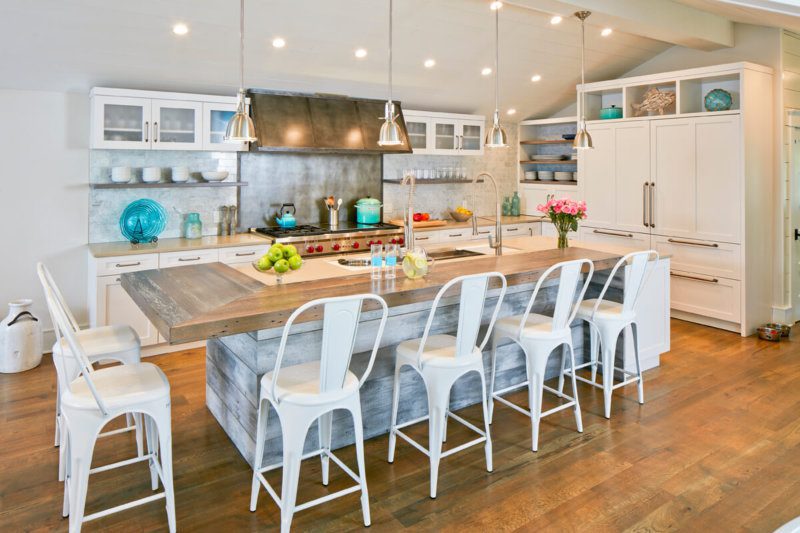 BAR SERVICE
No matter how hard you try to steer guests into other parts of the home, everyone always ends up back in the kitchen. A raised bar around the island gives guests a place to hang while keeping them away from the food prep space (the cook in your home will thank you!).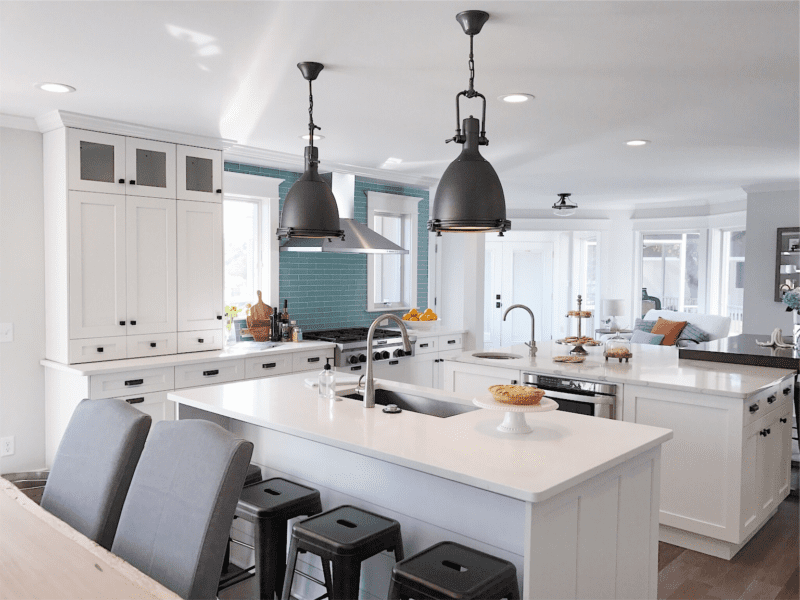 TWICE AS NICE
What's better than a gorgeous kitchen island? Two gorgeous kitchen islands! In a space that's all about entertaining, there's nothing better than having multiple work and service surfaces so revelers can help themselves without getting in the way.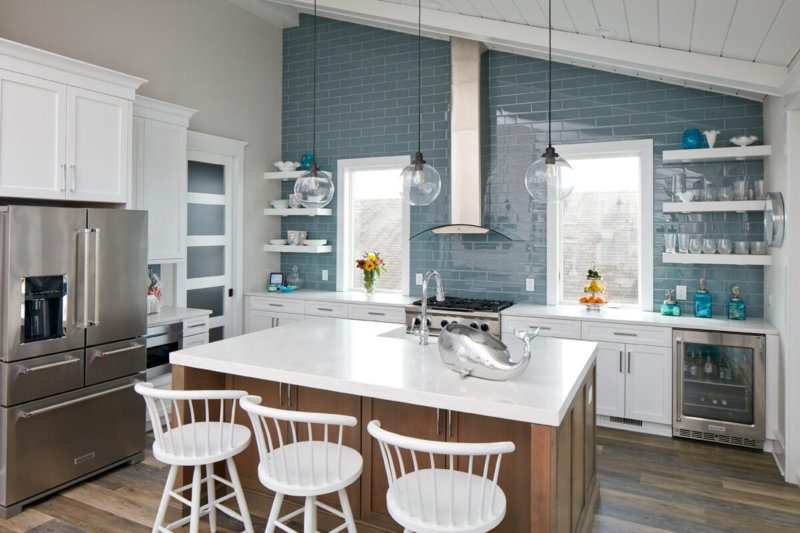 NEW HEIGHTS
If you're lucky enough to have high ceilings in your kitchen, embrace them! Draw the eye up with exposed beams, a textural ceiling treatment, and counter-to-ceiling tile. The shine on the baby blues seen here keep the space feeling light and airy.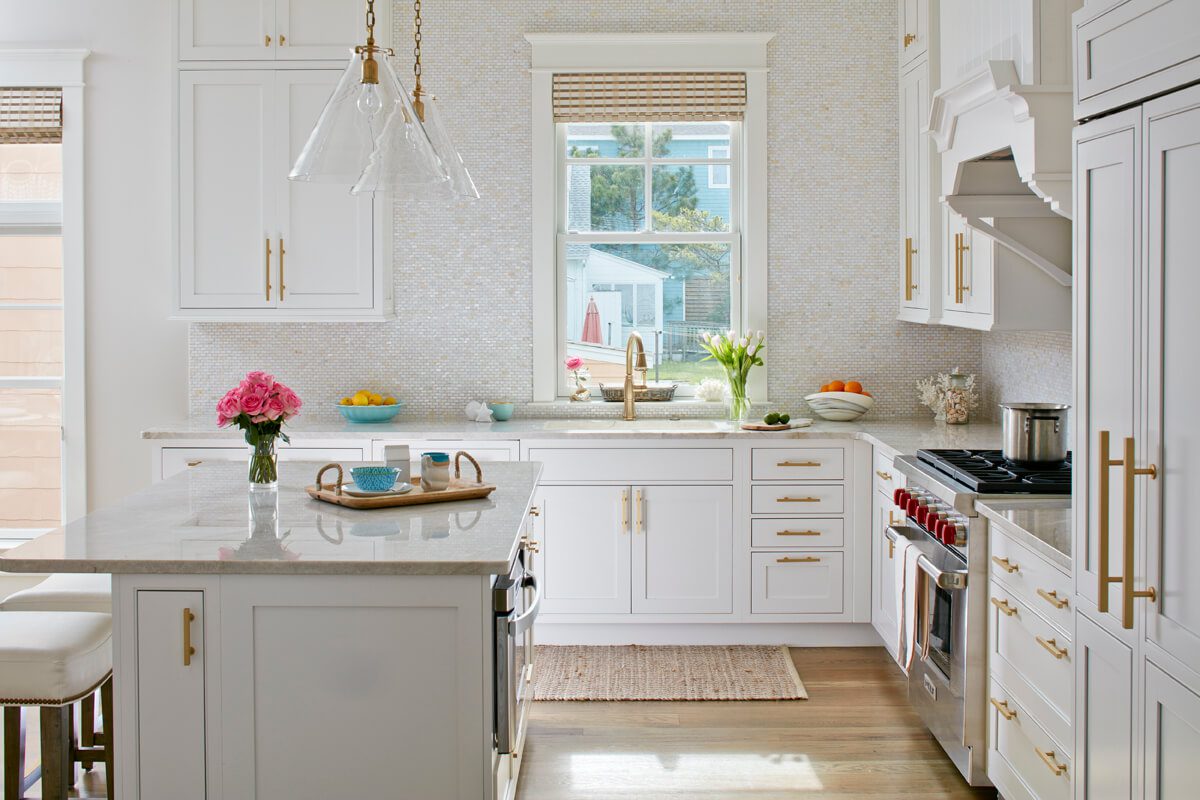 GETTIN' BRASSY
White kitchens are timeless and work in any home, with any style. Keep yours from looking too sterile by introducing warm brass hardware, fixtures, lighting, and other accents.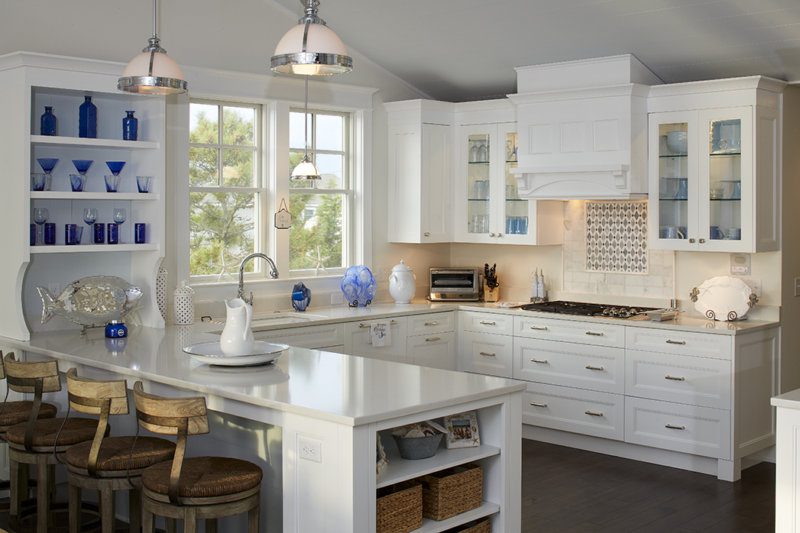 OPEN UP
Open shelving makes a kitchen of any size feel grand, and provides ample space to introduce color and personality. They're also a great way to add storage into the oft-overlooked ends of your kitchen island or peninsula.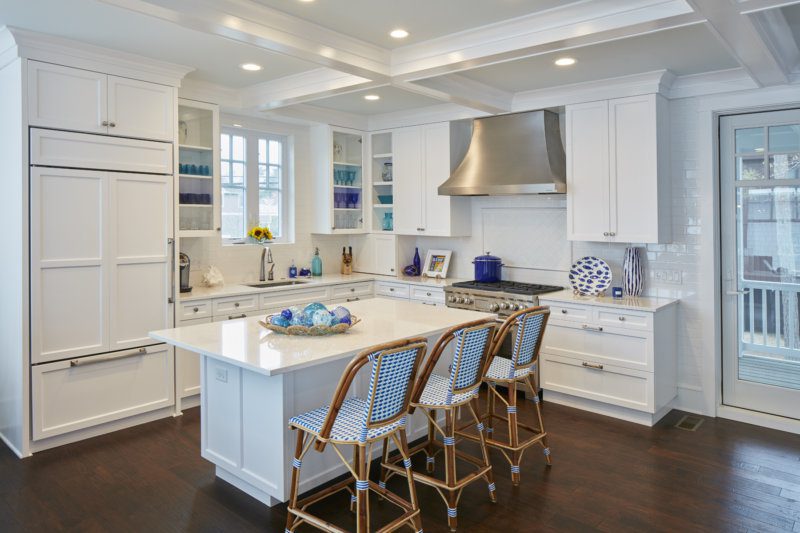 TAILOR MADE
Give your space a truly custom look by adding panels over your refrigerator, freezer, and dishwasher. This works especially well when trying to create a seamless, uninterrupted swath of cabinetry.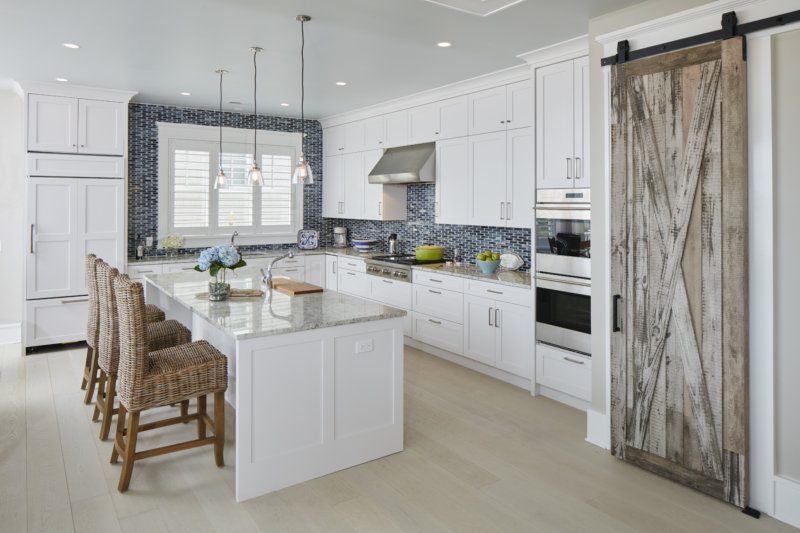 ROUGH HOUSING
Kitchens are full of cold, hard surfaces, but that doesn't mean your space should look cold and hard. Warm it up with natural elements like rattan seating and a rustic barn door for the pantry.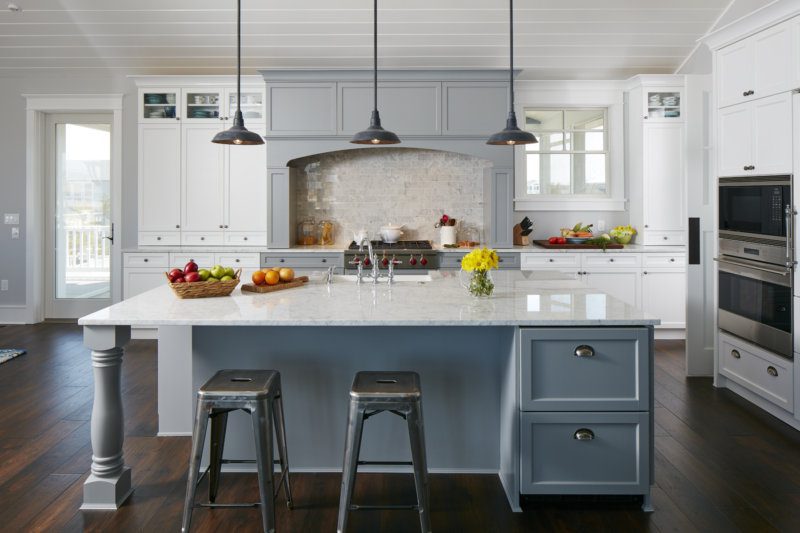 SHOW A LITTLE LEG
There are many reasons that this kitchen is a jaw-dropper, but my favorite is the island's turned leg. Just this small change turns a boxy, standard island into a stunning showpiece – and it's proof that design truly is in the details.
RETRO REVIVAL
Turn your kitchen into an instant classic with charming retro appliances that feel like a blast from the past, but function just as well as any top-of-the-line contemporary version.
BRICK BY BRICK
Consider non-conventional materials for a unique twist on a space that's focused mostly on utility. This brick backsplash brings color, texture, warmth, and undeniable character to this adorable kitchen.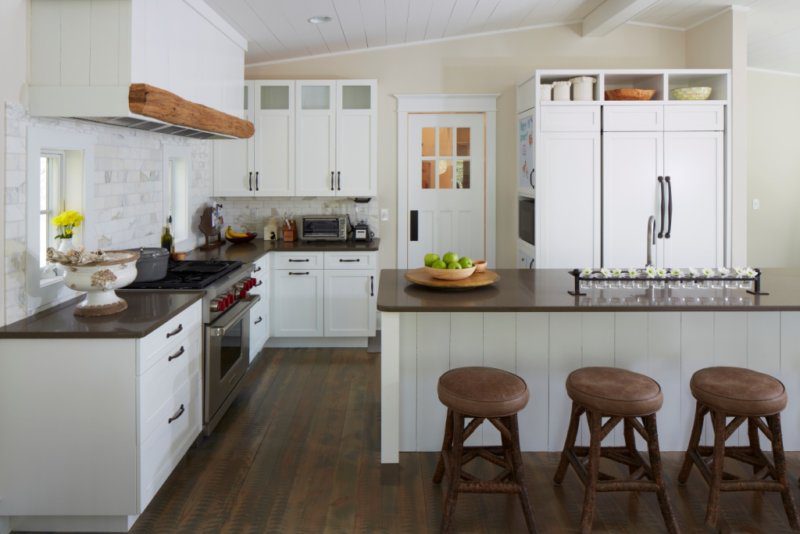 RUSTIC LUXE
Just a few thoughtful touches – dark wood flooring, supple leather stools, rich countertops, and a weathered wood beam above the stove – take this kitchen from ordinary to magazine-worthy in a snap.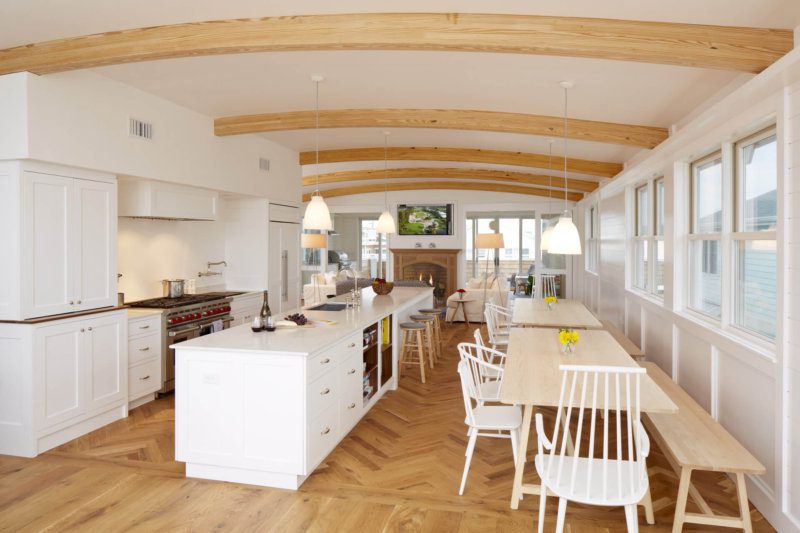 CURVY CLASSIC
Here, an all white kitchen sets the stage for what's above – a slightly rounded ceiling that feels like the bottom of a ship – and what's below – a gorgeous herringbone floor that beckons for bare feet.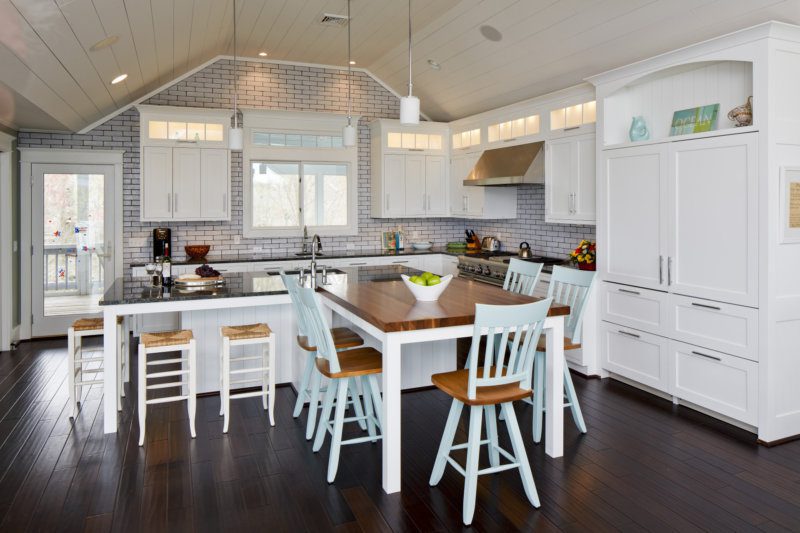 MASTER OF MULTIFUNCTION
If square footage isn't an issue, play around with the shape and style of your island. Here, a generous work surface is complemented by the addition of a high-top table to make this a truly eat-in kitchen.
From the heart of my home to the heart of yours,