Marnie's 2017 Holiday Gift Guide
BY: Marnie Oursler
---
Can you believe the holidays are here again? It seems like not too long ago that I was paddling out for waves and digging my toes into the sand, and yet here we are, swapping flip-flops for boots and surfboards for sleds. And if you're anything like me, you probably haven't gotten very far on your Christmas shopping yet. But no fear! Below I've pulled together my annual holiday gift guide to help you find the perfect gift for every special someone on your list.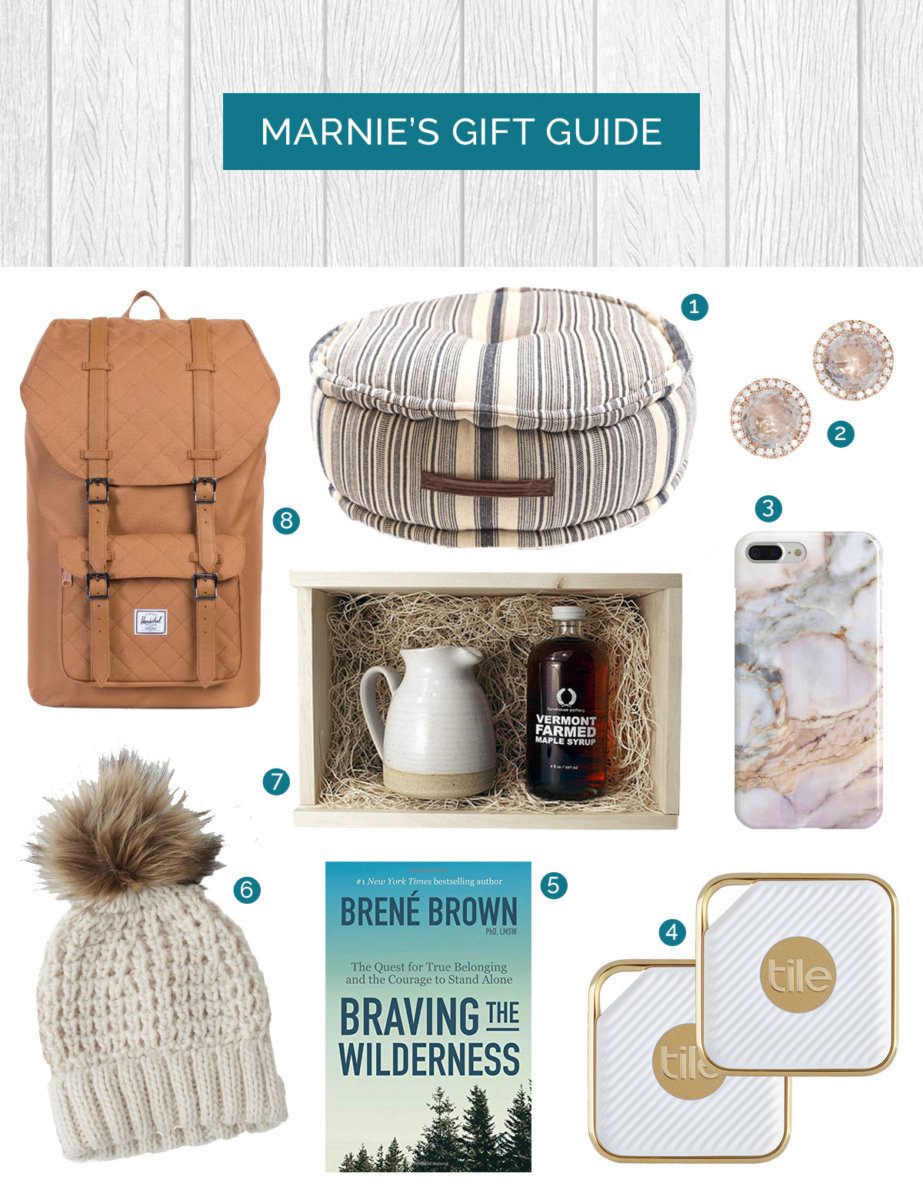 HOLIDAY GIFT GUIDE SET 1
1. Striped cotton pouf with handle: Floor pillows and poufs are an easy, no-fuss solution to extra seating during the holidays (and all year long!). Tossed on the floor or piled in a corner, this striped pouf looks good no matter where it is.
2. Pave halo studs: These glitzy earrings are just the right amount of feminine to add a little something special to any outfit. Take jeans and a tee to new heights or pile some extra sparkle onto your favorite black dress with these go-with-anything studs.
3. Gemstone iPhone case: Between filming episodes of Big Beach Builds and visiting client job sites, my phone is always on the move with me – and always getting banged up. I need a cover that protects my phone, but also looks good, and this stone-inspired beauty does both.
4. Tile anything finder: If you're the type of person who would lose your head if it wasn't attached to your neck, the Tile anything finder is for you. This little gadget syncs with your phone and attaches to keys, wallets – anything! – to help you find the things you misplace the most.
5. Braving the Wilderness: Brené Brown is endlessly inspiring, and her newest book about belonging, community, and being true to yourself is no exception. Buy one for a friend and one for yourself.
6. Pom pom hat: Cute, warm, and cruelty-free? This faux fur pom beanie ticks every box. Perfect for the slopes, running errands, or a night on the town, this will be your go-to hat all winter long.
7. Maple syrup and bell pitcher gift set: Christmastime always makes me think of Vermont – snowy hills, red barns, majestic pines, and of course, rich maple syrup. Give a taste of Vermont to your loved ones with this beautiful maple syrup and handmade bell pitcher gift set (great for teachers and neighbors!).
8. Little America backpack: The right backpack looks just as good in the school hallways as it does on the city streets. I love this quilted version that offers lots of luxe and plenty of room to carry everything you need to tackle the day.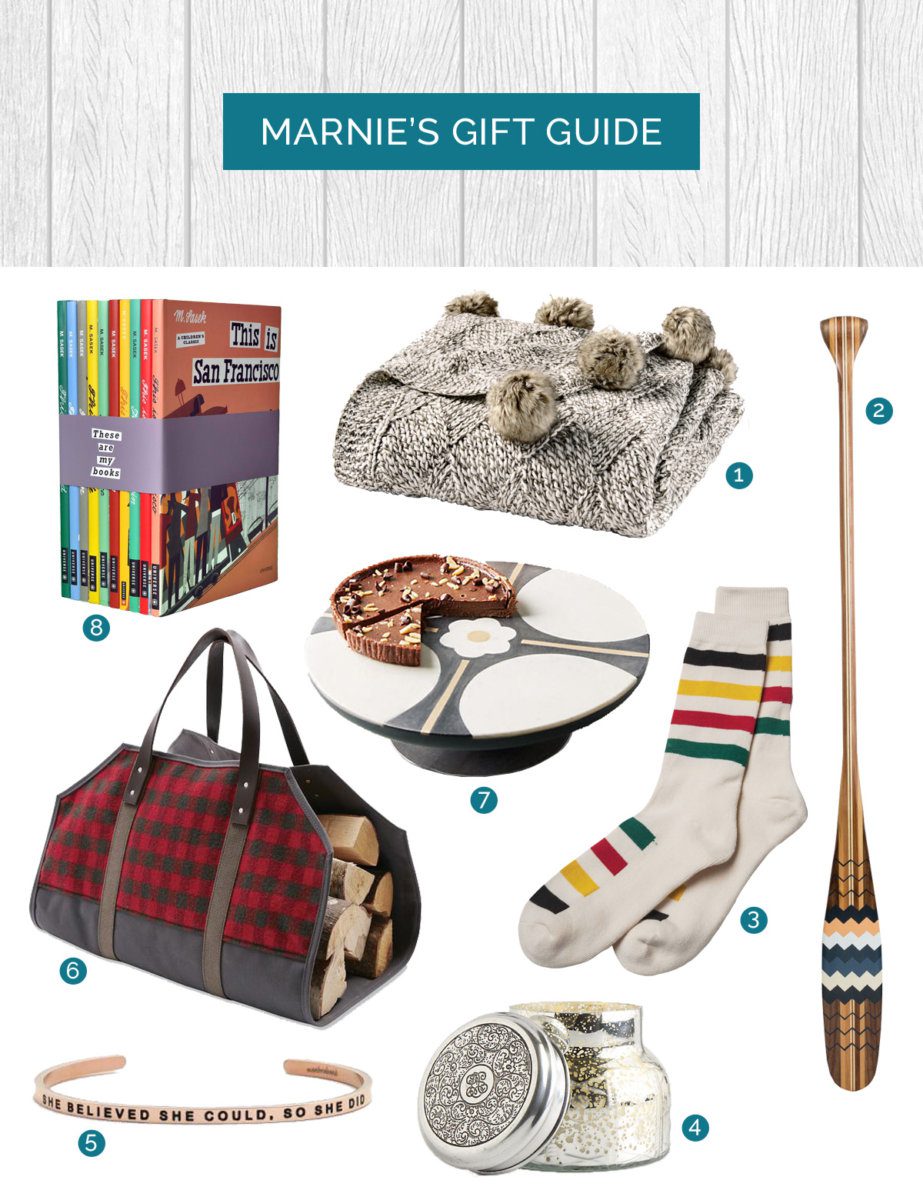 HOLIDAY GIFT GUIDE SET 2
1. Basketweave marled faux fur pom pom throw: Throws are the easiest way to add instant warmth to your home, and this throw has the cozy factor on lockdown: basketweave, faux fur, AND pom poms. This home must-have will make anyone on your list happy!
2. Canoe adventure paddle: I love decorating walls with objects as well as art, and this graphics paddle is both. But the best part is that for every product sold, United By Blue removes one pound of trash from our planet's oceans and waterways.
3. National park stripe crew socks: If you love homes and interiors, chances are you've seen this iconic Pendleton print on many a blanket. Inspired by Glacier National Park, now you can take the pattern – and the American pride – wherever you go (while keeping your feet toasty!).
4. Iridescent jar candle: A pretty candle can finish any vignette – top a pile of books on a table, place next to a frame with a beloved family photo, or tuck into simply styled shelf. This sparkly version comes in a variety of scents, from Spiced Cider to Fir & Firewood, but my favorite, naturally, is Coastal.
5. 'She believed she could' cuff: Mantras are so important to keeping us focused and positive when the going gets tough. Engraved with "She believed she could, so she did," this cuff makes a powerful gift for the strong girls and women in your life.
6. Mini buffalo check wool log carrier: Proudly made in the USA, this buffalo check log carrier by Faribault Mill is an absolute must for the fire lover in your world. Bonus – it looks just as gorgeous sitting unused as it does slung over a shoulder.
7. Bone inlay cake stand: Cake stands are ideal for decorating kitchen counters and islands – stack them high with desserts, fruit, or decor. I especially love this version because it reminds me of some of my favorite tiles.
8. Children's 'This Is' travel series: Travel truly is food for the soul, and it's where I find so much of my inspiration. Awaken the travel bug within the youngest people on your list with this gorgeously illustrated children's travel book series.
HOLIDAY GIFT GUIDE SET 3
1. Women's ultralight down hooded jacket: From its bright, tropical color to its lightweight warmth, I adore everything about this hooded jacket. Get this for the friend or loved one who enjoys spending time outdoors, no matter the season.
2. Slip-on boots: If there's one thing Scandinavians know, it's how to stay warm. These cozy, 100% wool, slip-on boots from Denmark are the softest things you can put on your feet – and there's not a person on your list who won't love you for gifting them with a pair.
3. Leather toolbox: Keep all the tools of your trade safe and protected with this stylish leather toolbox. And much like your grandfather's hammer, this heirloom quality piece will be passed down for generations.
4. Poppi handwarmers: In my line of work, I need to stay warm, but also nimble, and these colorful handwarmers allow me to do both. Keep fingers cozy and free for drilling, texting, and everything in between and look good while doing it.
5. Oceanscape painting: I've been a big fan of Alison Junda for a while now, and have even used her work in my clients' homes. Her deft hand, eye for color, and talent for texture and composition brings the coast and all its aesthetic pleasures to life wherever her artwork finds a home.
6. Delaware shaped cutting board: State pride meets craftsmanship with these beautiful state-shaped cutting boards. Gift them to a friend who lives and breaths for the home team, or a homesick relative who's moved away and craves a reminder of their roots.
7. Brass alphabet coasters: Warm metals, like the aged brass of these coasters, bring a wonderful visual coziness to any space. Send a set with the initial of a newlywed couple's last name, or gift to a family with everyone's first name initial represented. The possibilities and combinations are endless!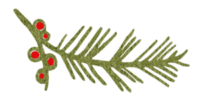 Merry gifting and happy holidays!