Company
Building with Design in Mind
Marnie Custom Homes brings impeccable craftsmanship, innovative design and luxury sophistication to the Delaware Beaches. Every Marnie Custom Home is unique and perfectly tailored to the homeowner.
The result? An ideal luxury beach retreat, built in harmony with nature.
Team
Marnie Oursler
Founder and President of Marnie Custom Homes
As a fifth-generation home builder, Marnie has taken all the skills she learned from generations before her and expanded on them to design and build custom beach homes that bring visions to reality. As host of DIY Network's Big Beach Builds and HGTV's Dream Home and years of experience, Marnie has carved out her place among the top builders in the region.
While each home Marnie builds reflects life at the beach in a variety of ways, the main goal is to always fulfill the homeowner's wants and needs, creating spaces to fit their lifestyle while embracing the natural surroundings of our Delaware beaches.
As soon as a client starts describing their vision, Marnie is already creating the blueprint in her head. With more than 20 years experience in both building and designing custom beach homes, she knows every aspect of what's required to build safe, sustainable and weather-resistant homes while also creating innovative one-of-a-kind spaces that enhance life at the beach for families and their guests.
A graduate of the prestigious Global MBA program at Duke University's Fuqua School of Business, she is a frequent speaker on such issues as building a business, cultivating a mentor and creating working relationships that truly benefit all involved. Marnie is a member of the Board of Advisors for The Center of Entrepreneurship and Innovation at The Fuqua School of Business at Duke University. She played Division 1 Soccer at the US Naval Academy before transferring to East Carolina University where she played Division 1 Softball and earned her undergraduate degree.
Read More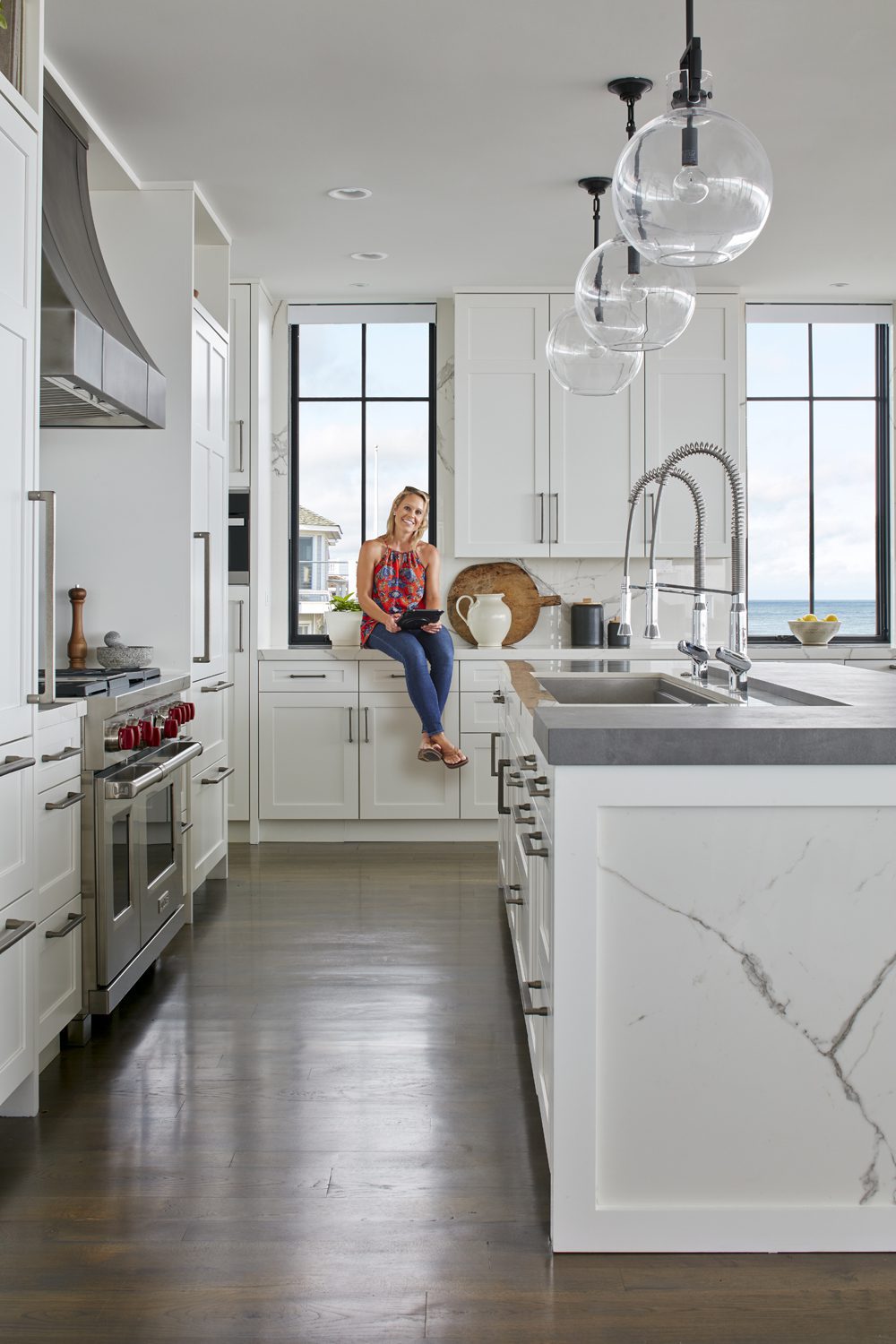 Marnie Oursler
Founder and President of Marnie Custom Homes
2022 & 2021 Custom Home Builder of the Year finalist by the National Association of Home Builders
2022 & 2021 Woman of the Year finalist by the National Association of Home Builders
Designer of the Year, 2020 Regal Award: Home Builders Association of Delaware
Designer of the Year, 2019 Regal Award: Home Builders Association of Delaware
Entrepreneur of the year, 2013 Gold Stevie® Award for Women in Business
Professional Builder Magazine "40 under 40"
Advisory Member, Del Tech Community College AET and CMT Program
National Spokesperson for 84 Lumber's "We Build American" Campaign
Girl's Inc., Strong, Smart Bold Award
Young Entrepreneur Collective (YEC): World's Most Successful Entrepreneurs 40 and Younger
Member, Board of Advisors for The Center of Entrepreneurship and Innovation at The Fuqua School of Business at Duke University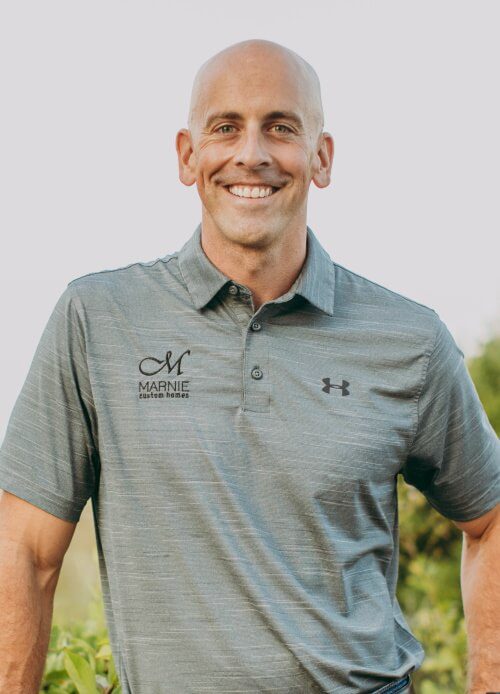 Jon Subity
Vice President
Jon has over 20 years in the home building industry and has an unbelievable work ethic. Before joining Marnie Custom Homes, his stellar work at NV Homes garnered him "Master Builder Society," "Excellence in Customer Service," "Construction Quality," and "Most Outstanding Performance in Production" awards, among others.
In 2014, Jon started out as our Project Manager, ensuring that all aspects of Marnie Custom Homes are innovative, quality-focused, and customer-oriented. He has since moved into his role as Vice President and is responsible for all facets of the company's accounting and finance functions and overseeing the rest of the team. We like to call him the glue that binds our team together.
Jon says he loves working at Marnie Custom Homes because of the people. "We are unbelievably fortunate to have the opportunity to build these amazing homes in this beautiful beach town, but the people we work with make this a dream come true. Our clients, our internal team, our extended team of contractors and suppliers, our community – everyone involved in making each build such an unbelievable success is what sets us apart."
When's he not working you can find this Division 1 athlete outdoors and doing anything active including surfing, swimming, cycling, hiking, and camping. He lives in Bethany with his wife Carrie and loves coaching their three young sons in baseball and soccer. Go Indians!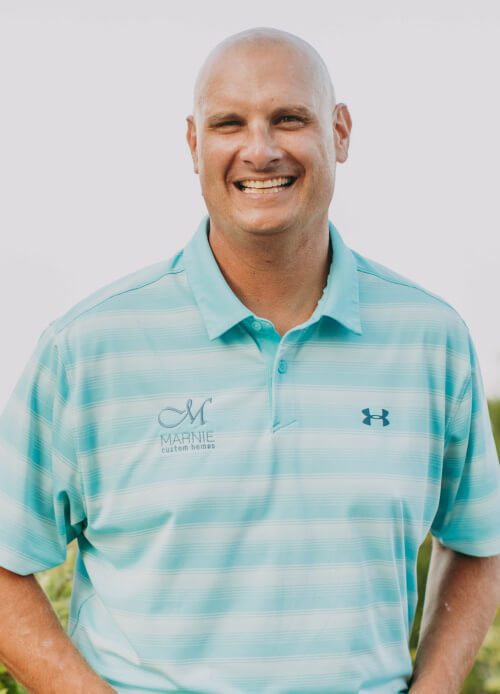 Jeff Staniszewski (Stan)
Operations Manager
Stan joined MCH in 2018 with over 13 years of home building experience working for NV Homes.  There he served in such roles as Project Manager, Warranty Manager and Production Manager and brings to bear this knowledge of all aspects of the business for our clients.  Stan is responsible for construction operations and making sure our day-to-day operations run like a well-oiled machine.
What he enjoys most about his job and MCH is the team-family atmosphere. "It is undeniable that we share the same passion for working hard everyday to make our clients dream beach home come to life.  I appreciate the autonomy of my position and how that affords me the ability to be creative with design and troubleshoot complex construction concerns.  Each home I work on is truly unique and this creates a pride factor that makes it enjoyable to come to work everyday."
Stan, a former Division 1 Linebacker, lives in Bethany with his wife Andrea and is the proud father of three young boys.  In his free time, he enjoys fishing, coaching sports, and being outdoors.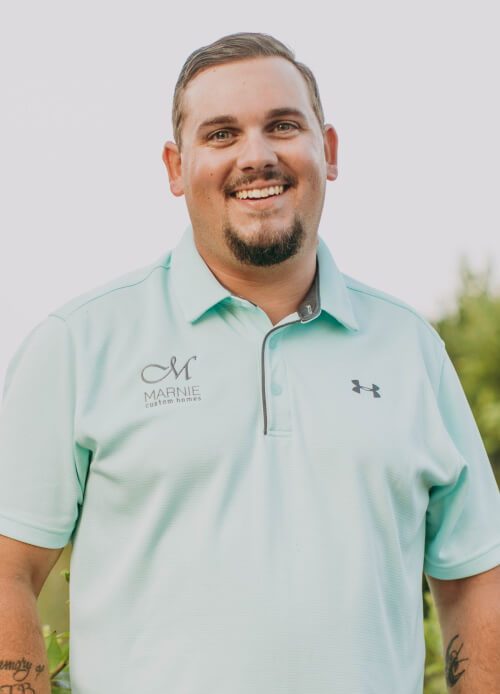 Dustin Burkett
Senior Project Manager
This is Dustin's second post at Marnie Custom Homes, and we couldn't be happier to have him back! Dustin was Marnie's first employee and has extensive, hands-on knowledge of building custom homes the Marnie way! He worked side by side with Marnie for three years in the field before he switched his focus to pursue plumbing.
Luckily for us, Dustin is back at Marnie Custom Homes after he desired a change of pace and more of a challenge. As the Project Manager, he has a proven track record of performance and attention to detail. He ensures client satisfaction by managing third-party subcontractors, ensuring the construction build schedule is adhered to and the finished product meets the highest possible standard.
When asked what he likes most about his job, he says he enjoys seeing new ideas with every project. "Marnie's design and vision are amazing. There are always new and unique features in every home, and I'm excited to help bring her ideas to life."
Dustin is a long-time Sussex County resident who enjoys fishing, boating with his family, hunting, golfing, and anything outside. He lives with his wife Karen and two daughters in Georgetown, DE.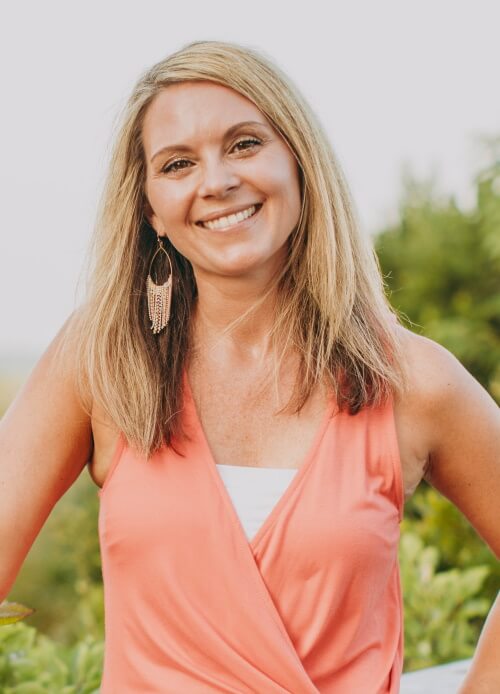 Celeste Henry
Marketing Director
Celeste brings us a new twist and energy to the marketing strategy when she joined us in 2018. She has over 20 years of marketing, sales, and PR experience, and her passion for showcasing MCH to the world is unwavering. She's focused on our marketing strategy, content development, and campaign execution to create consistency and enhance the MCH brand.
What she enjoys most about working for MCH is showcasing the talent of the MCH team. "I have the greatest job in the world, that I can share these amazing homes and help inspire anyone from 'the dreamer' to a potential client." She loves coming up with new and exciting ways to feature the MCH brand, and her energy and enthusiasm for MCH resonate with our clients.
Some of her favorite activities include playing tennis, being outdoors, exercising, and spending time with her three young children and husband, Evan.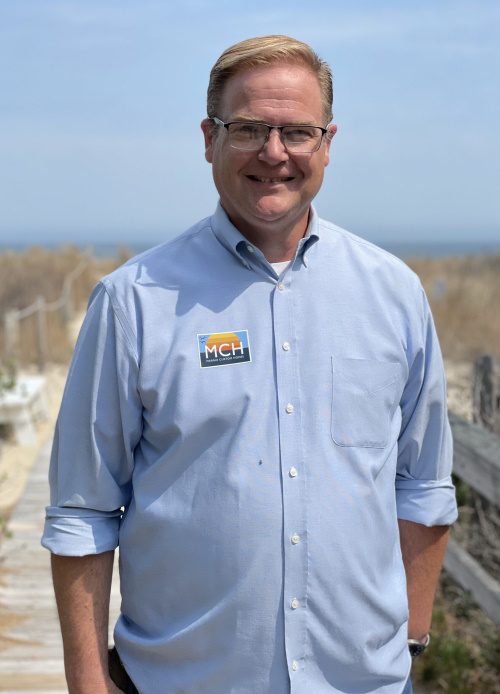 Jeff Kirby
Project Manager
Meet Jeff Kirby, a seasoned professional in the construction industry with almost 30 years of experience. Jeff thrives on the challenges custom home building presents on a daily basis, relishing the opportunity to solve problems and find solutions.
Born and raised in Michigan, Jeff spent almost 25 years working in New York City. He holds a bachelor's degree in real estate with a focus on Construction Management from NYU, as well as a certificate in Construction Management from Columbia University. With his combination of midwestern work ethic and "New York minute" sense of urgency, Jeff is a force to be reckoned with in the industry.
Having extensive experience, he has constructed a diverse range of projects including custom homes, multi-family residential buildings, a dental college, corporate office interiors, elevators, and cooling towers for both residential and commercial buildings throughout New York City.
Jeff is responsible for overseeing all aspects of our builds, working with our team, architect, subcontractors, and our clients to ensure the design is executed flawlessly and on time. He is in constant communication with our homeowners and his unique background is what sets him apart.
When asked what Jeff enjoys the most about working for MCH, he appreciates our team mentality and the sense of camaraderie and teamwork that permeates the MCH culture. "There is a true 'team' mentality in the company's culture. We are truly all in this together."
Outside of work you can find Jeff pursuing his love of fishing in the surf or in his kayak. Jeff is also a devoted family man, happily married with one daughter and two grown stepchildren.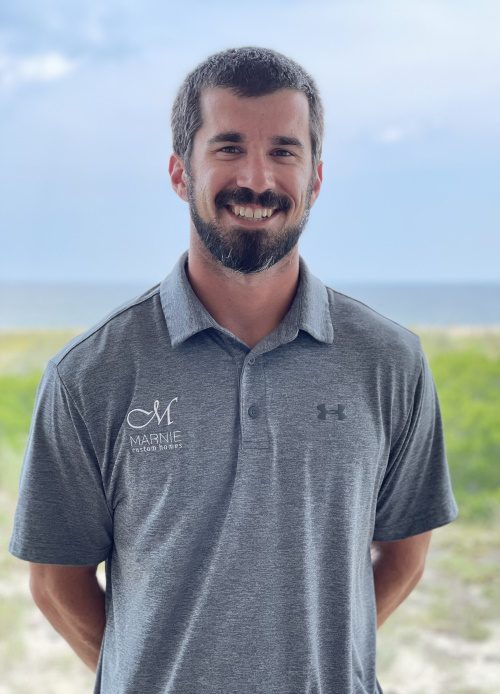 Matt Millman
Project Manager
Matt brings a unique skill set to the Marnie Custom Homes Team.
As a graduate of Washington College with a BA in Environmental Studies, Matt went on to work for a geotechnical engineering firm. He is a trained geotechnical project manager with extensive experience evaluating subsurface conditions to provide critical information about the soil and sand our homes are built on. His unique skillset allows him to evaluate potential site limitations and anticipate construction challenges. His ability to mitigate possible site problems makes him an incredible asset to our team.
As a Project Manager, Matt manages job sites from permit application to completion and guides our clients through the many decisions required during a custom home build. As a previous subcontractor, he also understands the value of quality communication between the subcontractors, vendors, MCH, and our clients – making communication a top priority. His favorite part of the home-building process is getting to work with all the trades involved and problem-solving challenges that can arise when building a custom home.
Off the job site you can find Matt on his farm in Milton, DE with his wife Sammie and their young son taking care of their dogs, cats, horse, goats, chickens, and ducks. Matt played lacrosse at Washington College, and he also enjoys hunting and fishing.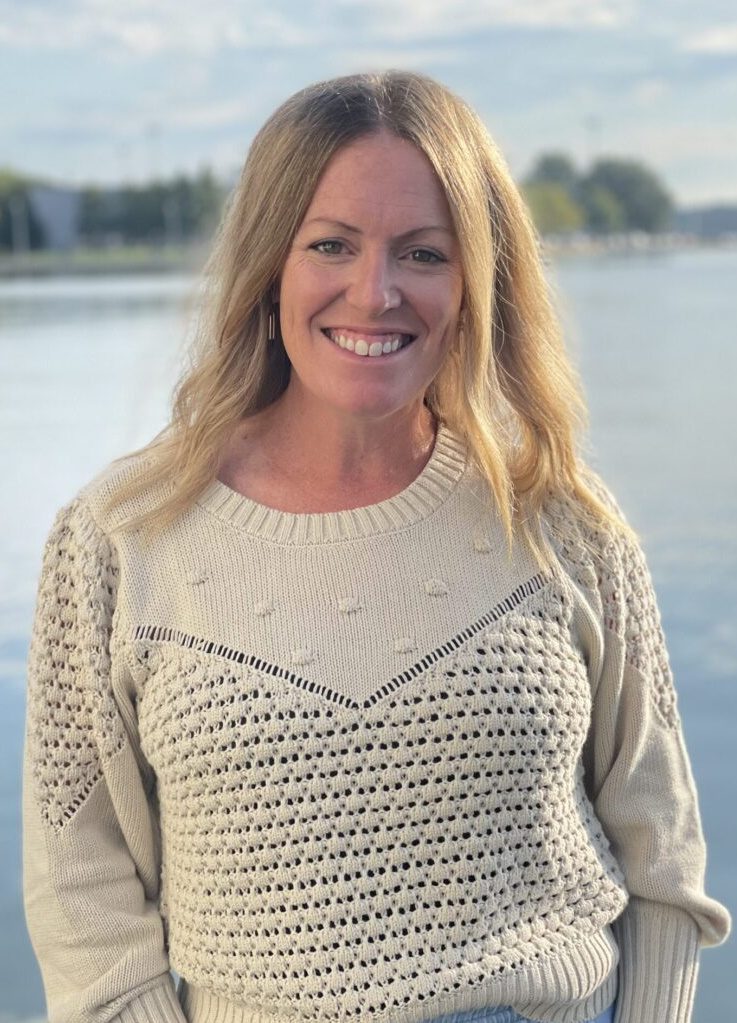 Carrie Subity
Client Services Manager
As Client Services Manager, Carrie ensures our customer experience is top-notch. Her degree in Organizational Communication helps her streamline internal processes and facilitate the endless flow of documents, schedules, and invoices so that our clients are always in sync with the MCH team through the construction process and beyond.
Previously, Carrie was the Executive Director at Bethany-Fenwick Area Chamber of Commerce for eight years before taking a hiatus from the professional world to start her family.  
"It has been so nice to be back working with this amazing team and assisting in building our clients' dream beach home."
Carrie has always been passionate about design and loves taking an active role in the construction process. She can likely be overheard asking her husband Jon, our VP, what they should renovate next in their home.
Fun fact: Carrie played Division I field hockey in college and was Captain in her Junior and Senior years. When she is not in the office, Carrie enjoys hanging out with her three active boys and watching them play sports and music. She has run two marathons and several Bi/Triathlons.
Carrie's people skills and unwavering commitment to MCH make her an incredible asset to our team.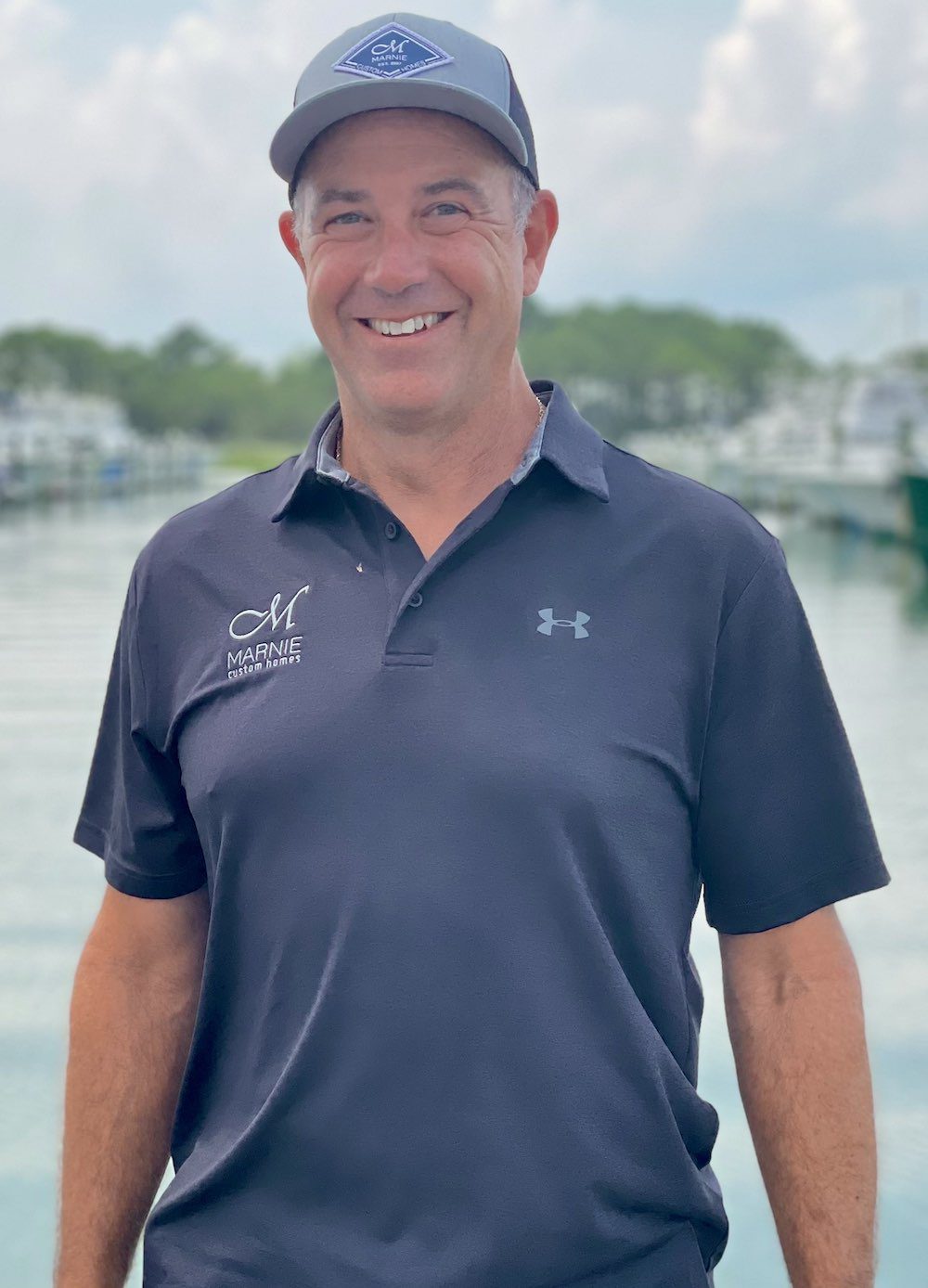 Tim Supplee
Project Manager
Tim has worked in construction for most of his life, starting on the Jersey shore, where his family ran a custom home-building company. It must be destiny that he is now building custom beach homes in Bethany. He brings a wealth of knowledge to our team with over 30 years of construction experience.
After graduating from the University of Delaware with a degree in Business Administration, Tim went straight into the construction industry, launching his career as a carpenter working on custom homes. There he found a passion for homebuilding which led him to take a leap of faith and start his own construction company Black Dog Construction which he owned for 14 years in Newark, DE.
In 2019 he and his wife moved to the beach, which led him to pursue a career as a Project Manager with Marnie Custom Homes. "Custom homes are where my heart is.  I love building things that no one has seen before or others say cannot be done. I love watching my clients' excitement build as their new home becomes a reality."
Tim manages the day-to-day operations on our job sites, ensuring our homes are built with impeccable craftsmanship and on time. His love for home building is evidenced by his extensive knowledge and the care he takes with each build.
Tim is an avid biker (especially mountain biking) and has completed over 100+ mile bike rides. Fun fact, Tim is a drummer and toured with his band around Europe in his 20s. He lives in Rehoboth with his wife, Debbie, and has two adult daughters, Camille and Abby. You can catch Tim spending time with them on the beach or somewhere on the water.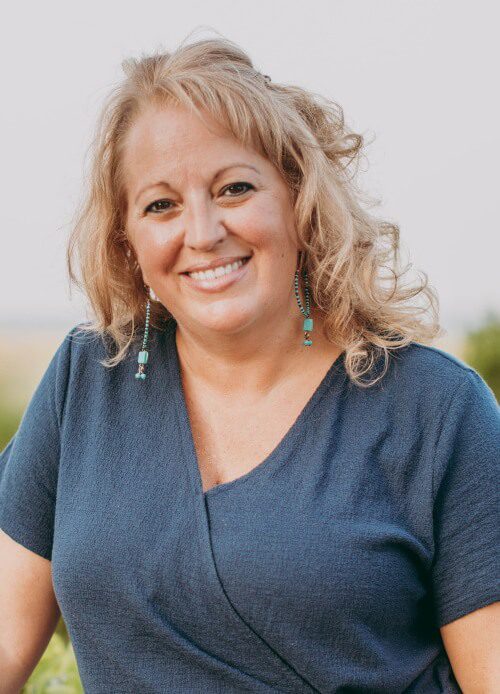 Tammy Thomas
Selections Coordinator
For over 30 years, Tammy has been a significant leader in the lighting design space. You may know her from her work as General Manager at The Light House of Lewes or her own lighting design business, Lighting by Tammy. Now, as an integral part of our Selections team, Tammy is passionate about lighting and helping our clients find beautiful solutions to make their home shine.
In 2002 Tammy achieved the designation of Certified Lighting Consultant, the highest designation offered by the American Lighting Association. This prestigious certification puts her in an exclusive group of only 182 Certified Lighting Consultants in the country and one of two in the state of Delaware.
Tammy's superpower is her ability to narrow options from an overwhelming abyss to a perfectly-tailored sample collection that reflects the homeowner's personality. She works with Marnie to make good on the promise that each home is unique and perfectly tailored to the homeowner.
In her words: "I love the environment at MCH and how everyone cares deeply and contributes to the common goal of making the beach house dream come true. They treat customers like family, and working with Marnie is inspiring! She has this positive energy that makes you want to do your best and makes you feel like you are a part of something special. I feel like I've won the job lottery!"
Tammy is a Sussex County native and grew up in the small town of Slaughter Beach, Delaware. As a born and bred beach lover, Tammy enjoys going to the beach, swimming, reading, and dancing. She and her husband, Scott live in Rehoboth Beach with their rescue cats.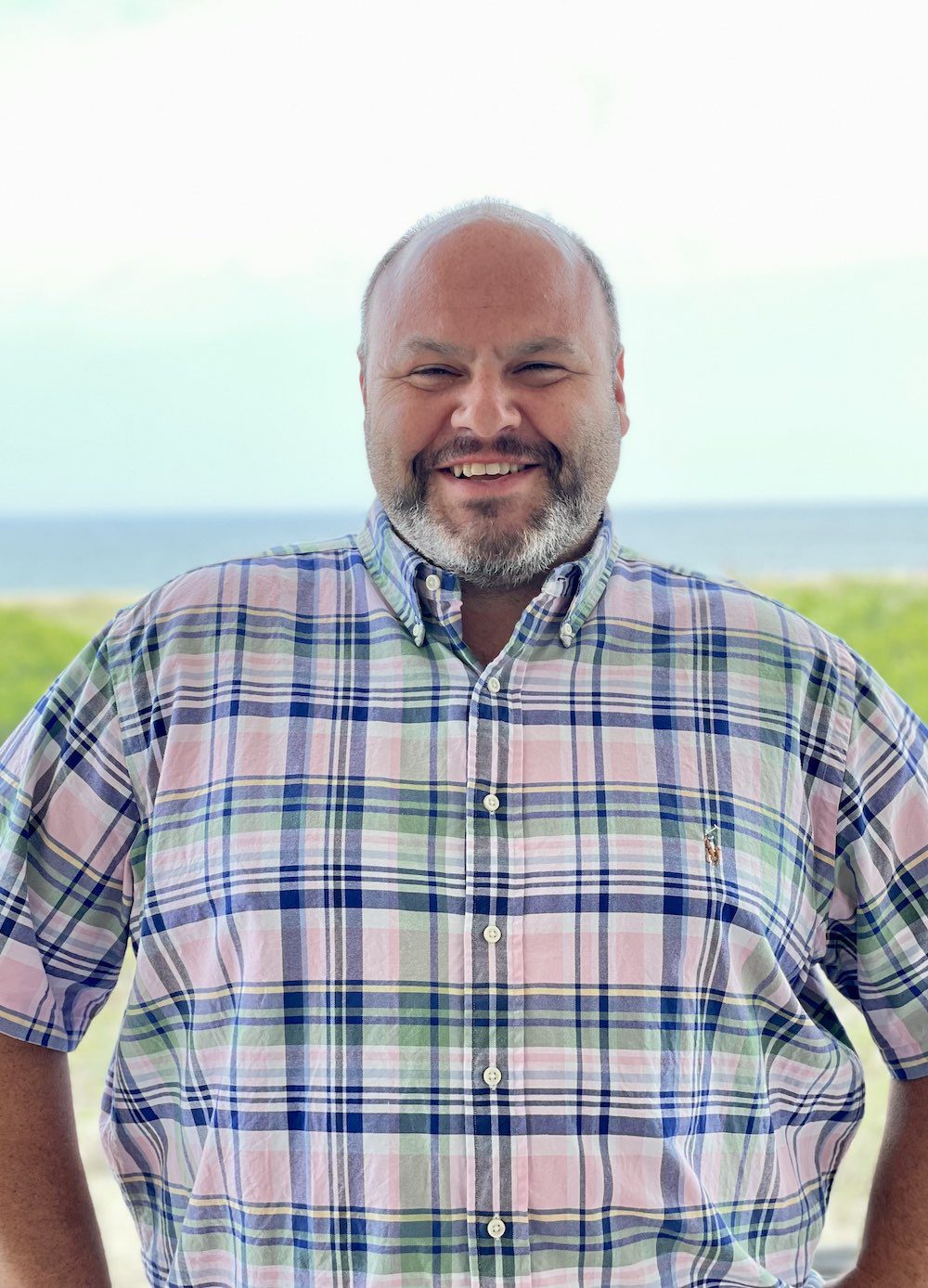 Jim Thompson
Project Manager
Jim has spent more than two decades designing and crafting ornate circular and spiral staircases for some of the country's most distinguished homes. From professional athletes to some of the nation's wealthiest entrepreneurs, Jim's designs and craftsmanship have been enjoyed by an extensive list of high-profile clientele.
After years of custom metal and woodworking, Jim took his industry expertise to project management where he can ensure a seamless process and flawless product. Jim thrives in a role that allows him to problem solve, where he can apply his industry experience with innovation.  Working at Marnie Custom Homes has allowed him to combine his skills in construction with his detail in project management and his love of working in a beautiful community by the water.
After fulfilling his dream of relocating to coastal Delaware from Northeast Ohio, Jim has enjoyed spending lots of time by the water with his wife, Sarah, their young son and two dogs. The family is loving their time exploring everything the area has to offer. From the parks, to the bays, to the beaches and the plethora of wonderful eateries, Jim enjoys telling others about the area he is so fortunate to live. He is also relishing his self-proclaimed title of "oyster connoisseur.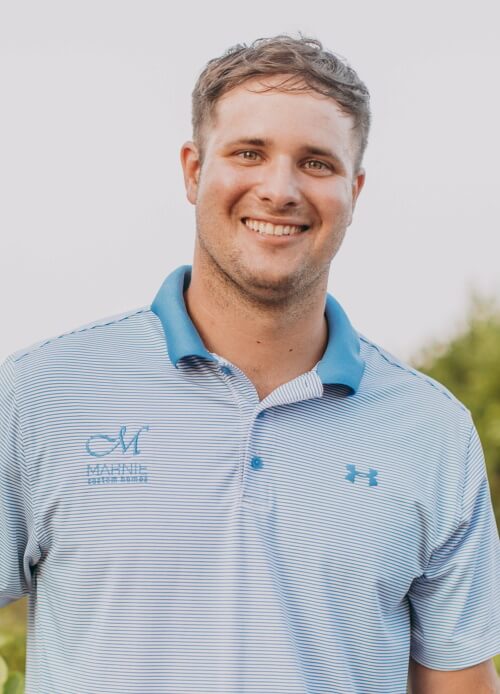 Gray Venables
Project Manager
Gray is a very experienced project manager and excels at all aspects of construction including setting deadlines, assigning responsibilities, and monitoring the progress of each house. He works closely with our subcontractors to ensure our homes are built on time and within scope and budget. Gray is a great listener and takes pride in working with our clients to deliver the home of their dreams. When asked what he likes most about working at MCH, he says "I like the challenge of building custom homes in which each is unique. Seeing the progress from beginning to end and knowing I helped make it happen is rewarding. Plus, a major bonus is working outside in the beautiful town of Bethany!"
Gray has deep roots in Delaware. His family owned a large commercial construction company in Delmarva for many years, which sparked his interest in working in the construction field. Growing up, Gray worked as a lifeguard in Bethany Beach and is excited to be building in the area where he grew up working. Outside of work you can find him hanging at the beach, camping, and hiking. He seems always to be working on a DIY project around his waterfront house in Bethel DE where he lives with his wife Kara, their two young children, and two dogs.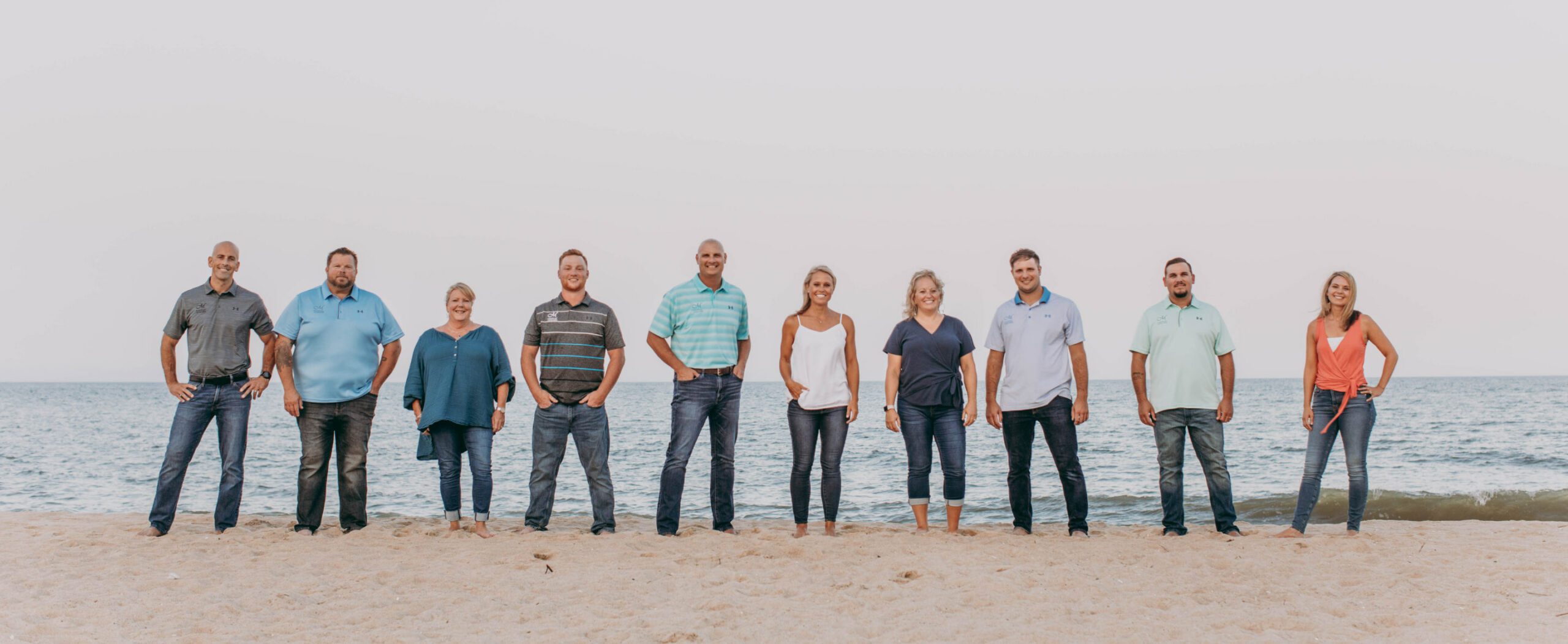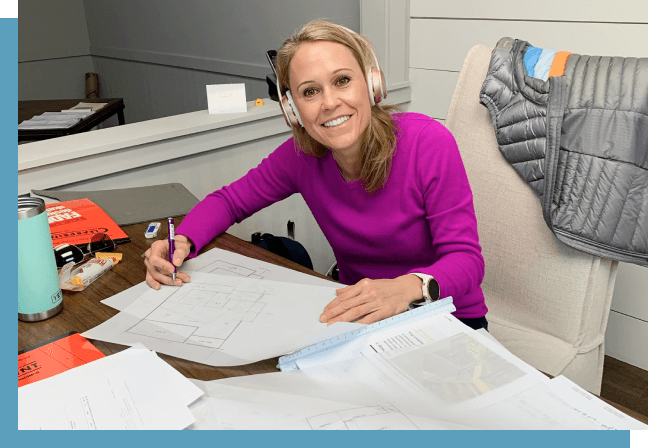 A Builder Who Listens and Cares
When you build a Marnie Home we anticipate and guide you through the tens of thousands of choices needed to make your dream home feel like home. Marnie takes you through the entire process, step by step, keeping priorities front of mind and her eyes on the prize—your dream home. Our clients trust us to make decisions that perfectly suit their personal style and lifestyle. And you will, too.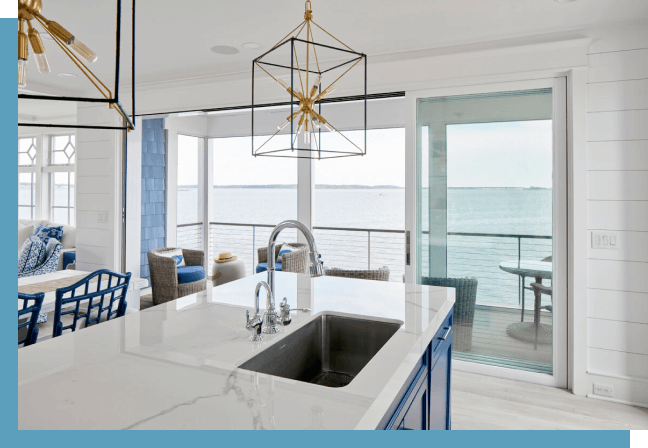 A Logical Process
Every aspect of building your home, from budget creation, to vendors, to finish selections, is expertly managed for a seamless, relaxing and enjoyable experience. Rest assured Marnie's tenacious attention to every detail–from aligning the interior trim to getting manufacturer warranty certificates–means you can breathe easy. With our unique online interface, clients can access budgets, costs and schedules from anywhere in the world. And frequent one-on-one communication and weekly meetings keep things moving and clients feeling secure and on top of the project.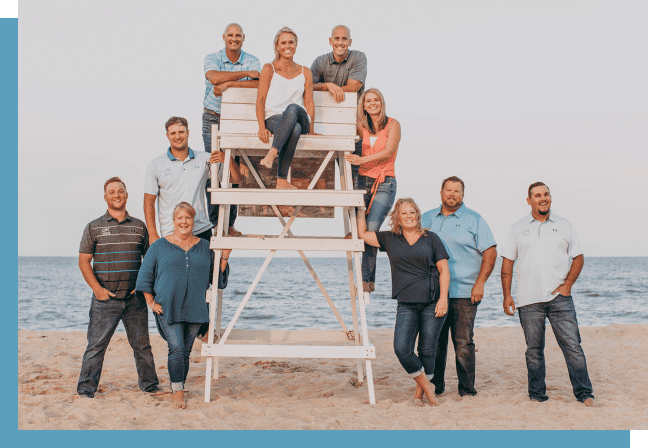 An Uncommonly Fun Experience
It's exciting to build a Marnie home, because you also build a friendship! Marnie's warm, engaging style and cheerful demeanor means building your dream home will be a big, fun adventure. We care, and we want to make it right for you. Our mutually-respectful and beneficial longstanding relationships with vendors and subcontractors ensure you get the best value. That's why our clients' friends and neighbors can't wait to build a "Marnie Home" of their own.
Community
Marnie builds dream homes that feel like home. She also builds community by giving back: whether by using locally-sourced materials, helping Delaware students get hands-on learning opportunities, or supporting arts education for underprivileged kids.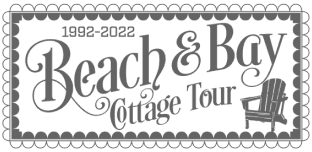 Building American
Marnie is a professional builder and advocate for American-made materials and workers. She believes in using her skills to help others, which is why she is a member of Contractors for a Cause. Marnie also serves as a spokeswoman for 84 Lumber's Build American campaign, raising awareness about the importance of buying American-made products.
Active Memberships
Marnie is a business executive and entrepreneur with over 25 years of experience in the corporate world. She has served on numerous boards of directors, and currently sits on the board of Beebe Hospital Foundation, Duke University Fuqua School of Business Center of Entrepreneurship & Innovation, and the James B. Duke Society- Duke University. Marnie also belongs to several organizations including the Women's Impact Network – Duke University and East Carolina University Letterman's Club, to name a few.
Mentoring & Motivating
Marnie is passionate about helping others achieve their dreams and finds joy in mentoring and coaching others, whether it's in business or in life. Her focus is always on relationships – building them, growing them, and making them last. She believes that strong relationships are the key to success in any area of life. She pays it forward as a mentor for Girls, Inc., Duke University FoundHER's challenge and offers advice and motivation at events like NYU Stern Business School's Women in Business Conference, Melissa and Doug Entrepreneurship Program and the Forté MBA Women's Leadership Conference. Marnie is dedicated to helping people reach their goals by providing guidance, support, and inspiration – because when people succeed, we all succeed.
Volunteer Time/Donations Annual Gifts
Marnie is a social leader committed to helping people achieve their dreams and making the world a better place. Her mission is to always put people first, empower women and girls, and build community. Each year Marnie provides scholarship to East Carolina University funding to deserving young women and men in higher education who are pursuing construction management careers, donates financially to various Methodist and Presbyterian churches, and supports a wide variety of other causes that are important to her. In addition to her financial contributions, Marnie also donates her time and energy to many different organizations, such as, the Michael J. Fox Foundation, focused on Parkinson's research and support. She is a strong believer in the power of giving back, and she knows that even the smallest act of kindness can make a big difference in the world. For Marnie, volunteering is an important way to live out her values and make a positive impact on the lives of others.