How to Get Coastal Style Even If You Don't Live on the Coast
Beach homes have an unmistakable vibe – light, airy, casual, yet tailored, and always warm and welcoming. It's this very aura that first attracted me to beach living, and it's the starting point for every home I design and build for my clients. But not everyone lives on or near the beach. In fact, according to the NOAA, in 2010, only 39% of the U.S. population lived in counties directly on the shoreline. But that doesn't mean that the remaining 61% that don't live at the shore can't get that same beach feeling in their home. Coastal interiors are about so much more than seashells and boat decor – and below, I've shared how you can capture the essence of the beach in your home, wherever your home may be.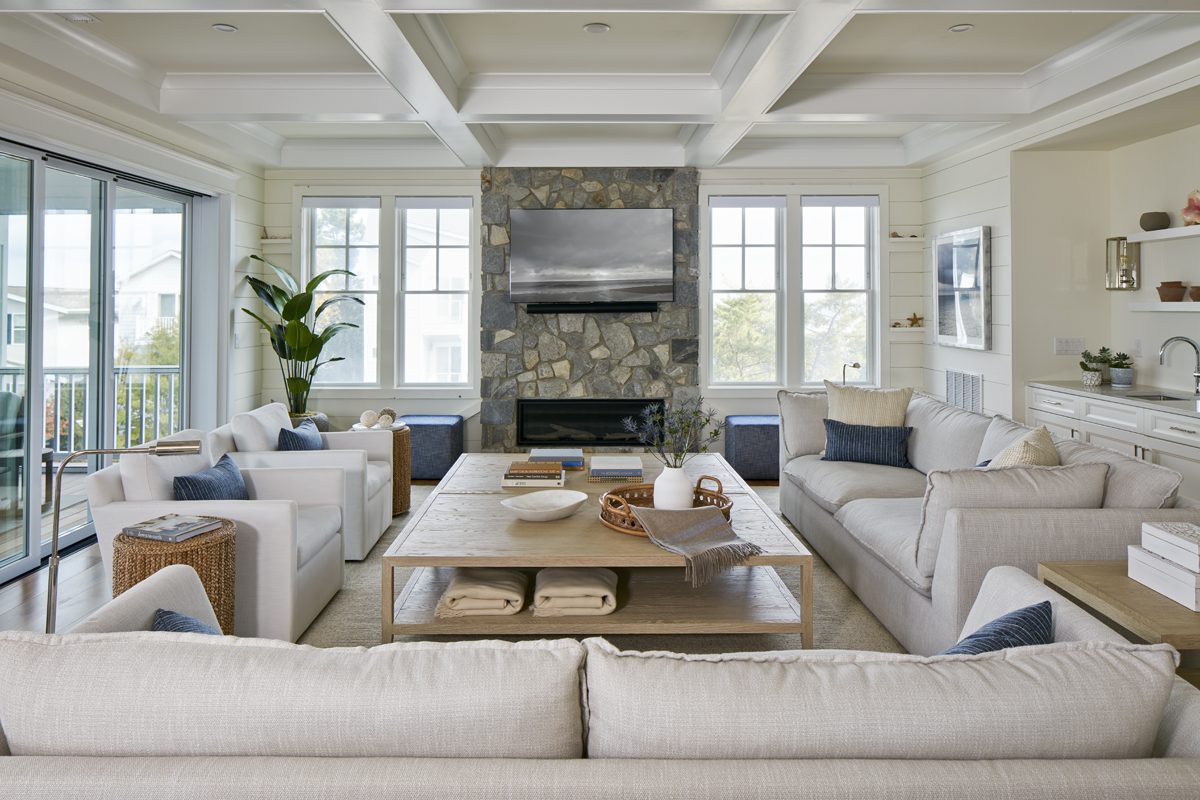 A WHITE PALETTE
White is the color of airiness, breeziness, and casualness. It's the color of seagulls and ocean foam and fluffy summer clouds. White is also the perfect backdrop for peace and tranquility. It's no wonder, then, that it's perhaps the first thing that comes to mind when you think of beach home interiors. Take a cue from the coast and try your hand at an all-white space. Just remember to incorporate different shades and plenty of texture to keep it from looking sterile. Creamy whites with yellow or red undertones, paired with brass and copper, create a warm feeling. For a cooler space, whites with blue or purple undertones and accents of silver and chrome work best.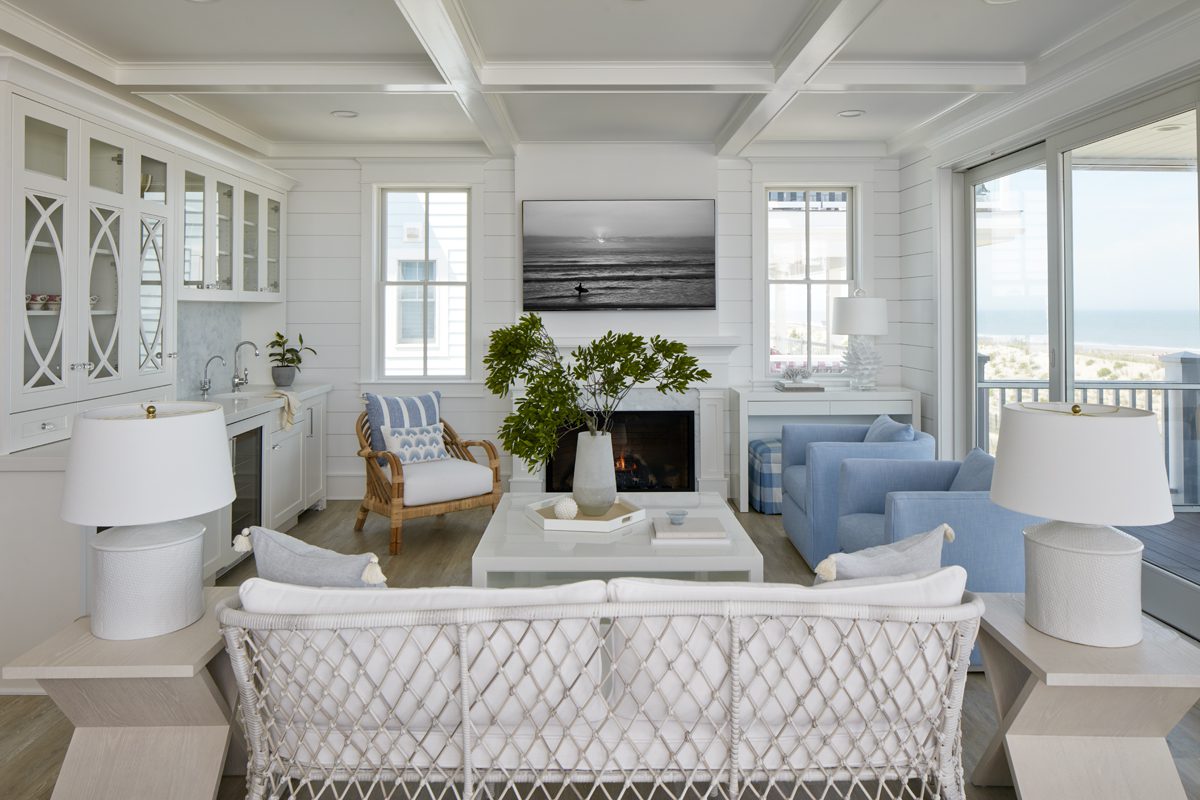 NATURAL TEXTURES
Texture is important in any room, but in the light, often all-white palettes of the coast, texture takes on a much more significant role. Here at the beach, natural textures take the form of driftwood, rope, seagrass, linen, and rattan, to name a few. To bring natural texture to your home, try classics like weathered wood, jute, and wicker, or find inspiration in the landscape where you live.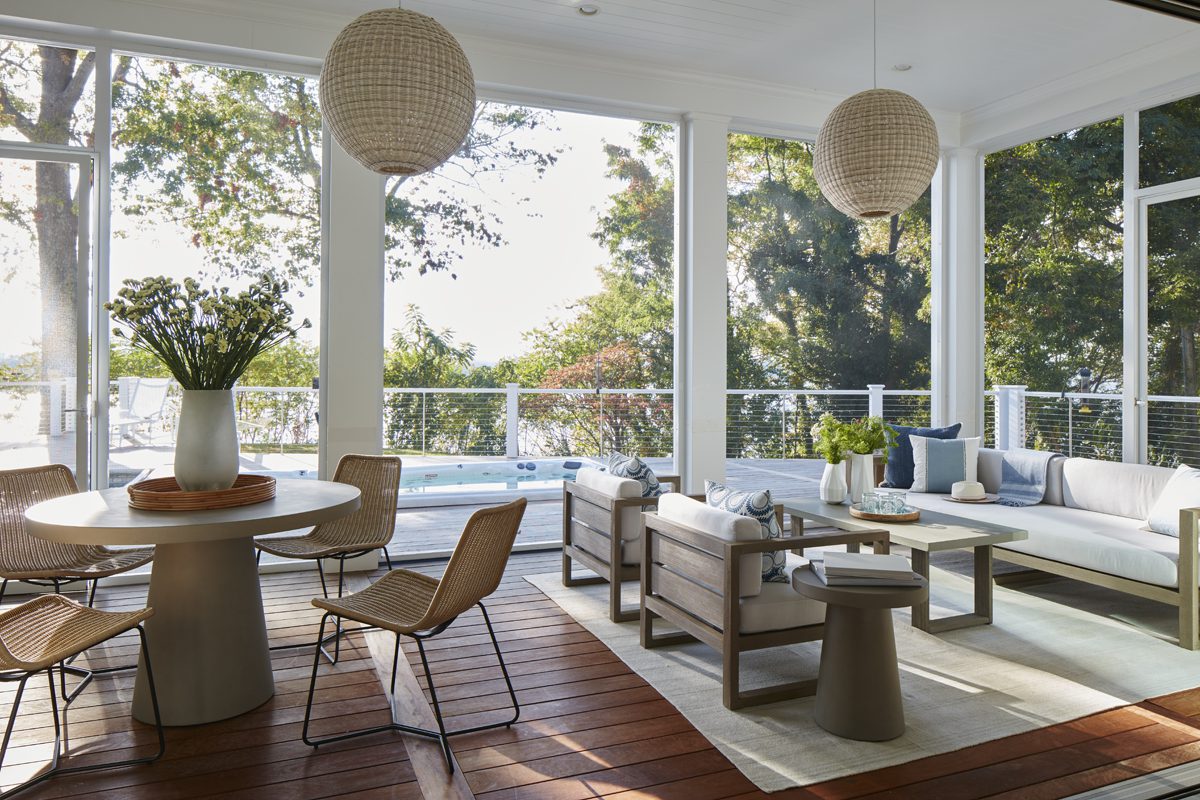 COLORS OF MOTHER NATURE
American Coastal style homes are often accented with the colors of sea and sky – mostly blues, but also lighter colors, like the pastels of an ocean sunrise. This helps tie what's inside to what's outside. Think about the colors where you live. If you're surrounded by forest, incorporate deep greens and earthy browns. If you live in the desert, try clay reds, burnt oranges, and dusty pinks. Mother Nature creates her own palettes, and they never disappoint!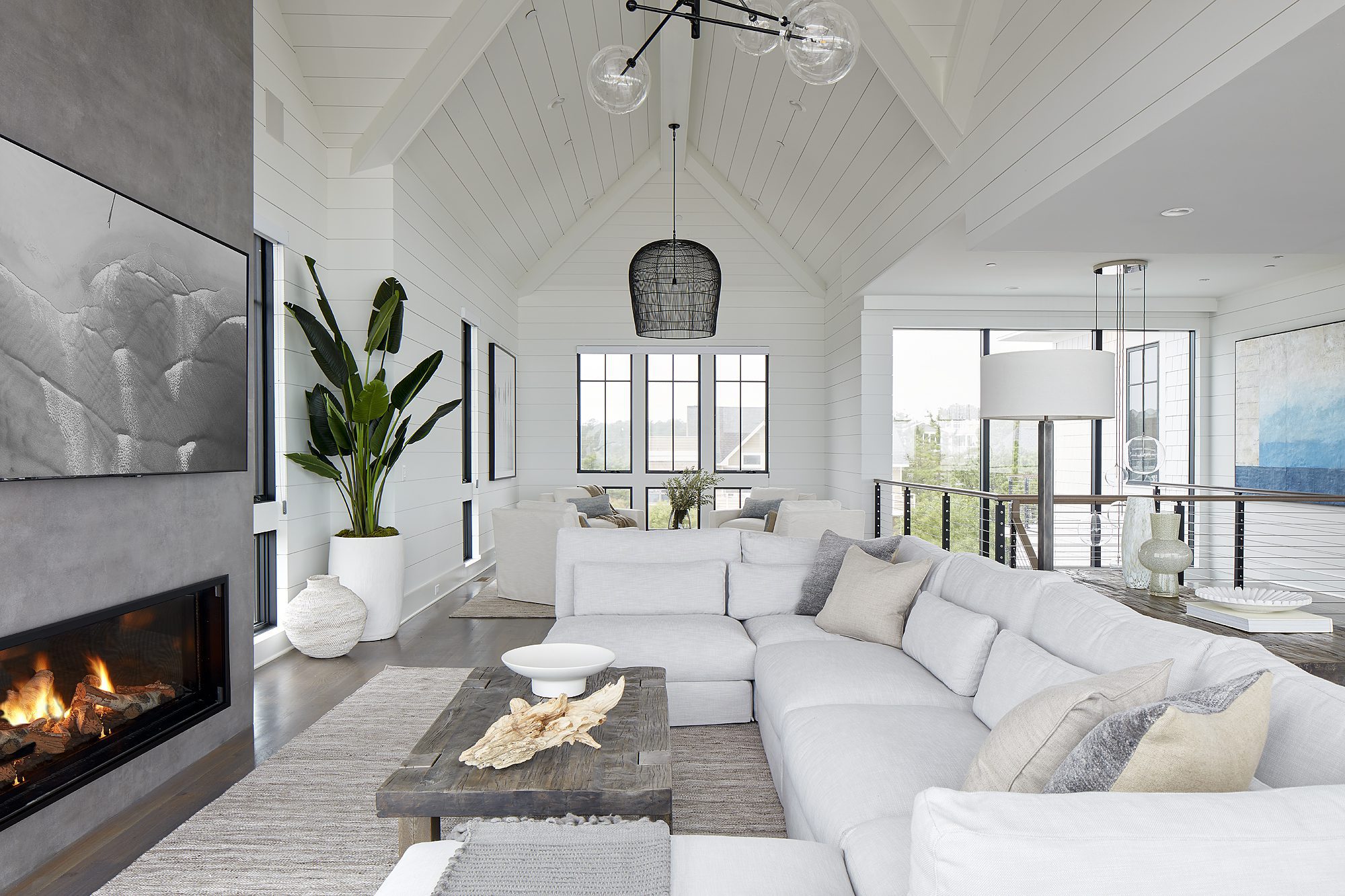 TAILORED YET CASUAL FURNITURE
Life at the beach – with all that sand and water – can get messy, which is why slipcovered furniture is a coastal home staple. The result is a casual, yet tailored vibe that creates an inviting space that still feels buttoned up. Slipcovers are especially great for anyone who lives with kids or pets. If slipcovers aren't your thing, create the same feeling by choosing comfortable furniture with clean, simple lines in unfussy textiles.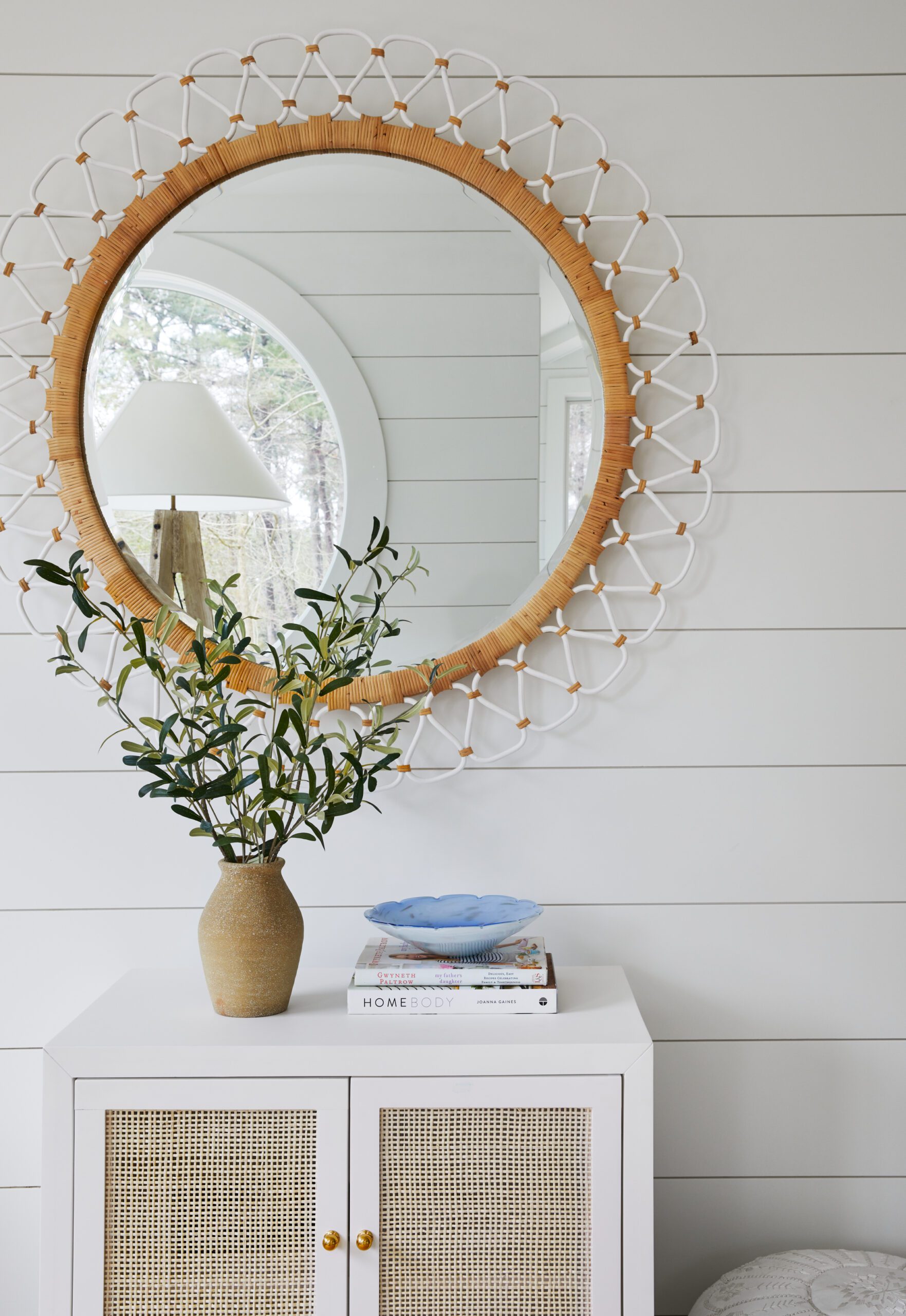 WALL PANELING AND MOLDING
Anyone who has seen a Marnie Custom Homes build knows that I love wall paneling and molding (my love started with my maternal grandfather, who was, among other things, a master carpenter). But I'm not alone – these elements are beach house go-tos and for good reason: they add visual interest, texture, and a feeling of customization to any space. And the best part? These details go in just about any home style in any location. Some of my favorites are beadboard, shiplap, and crown molding over doors and windows. If you want to test the waters, start with something small, like a chair rail in a powder room. It's a simple DIY that will have a major impact on your space.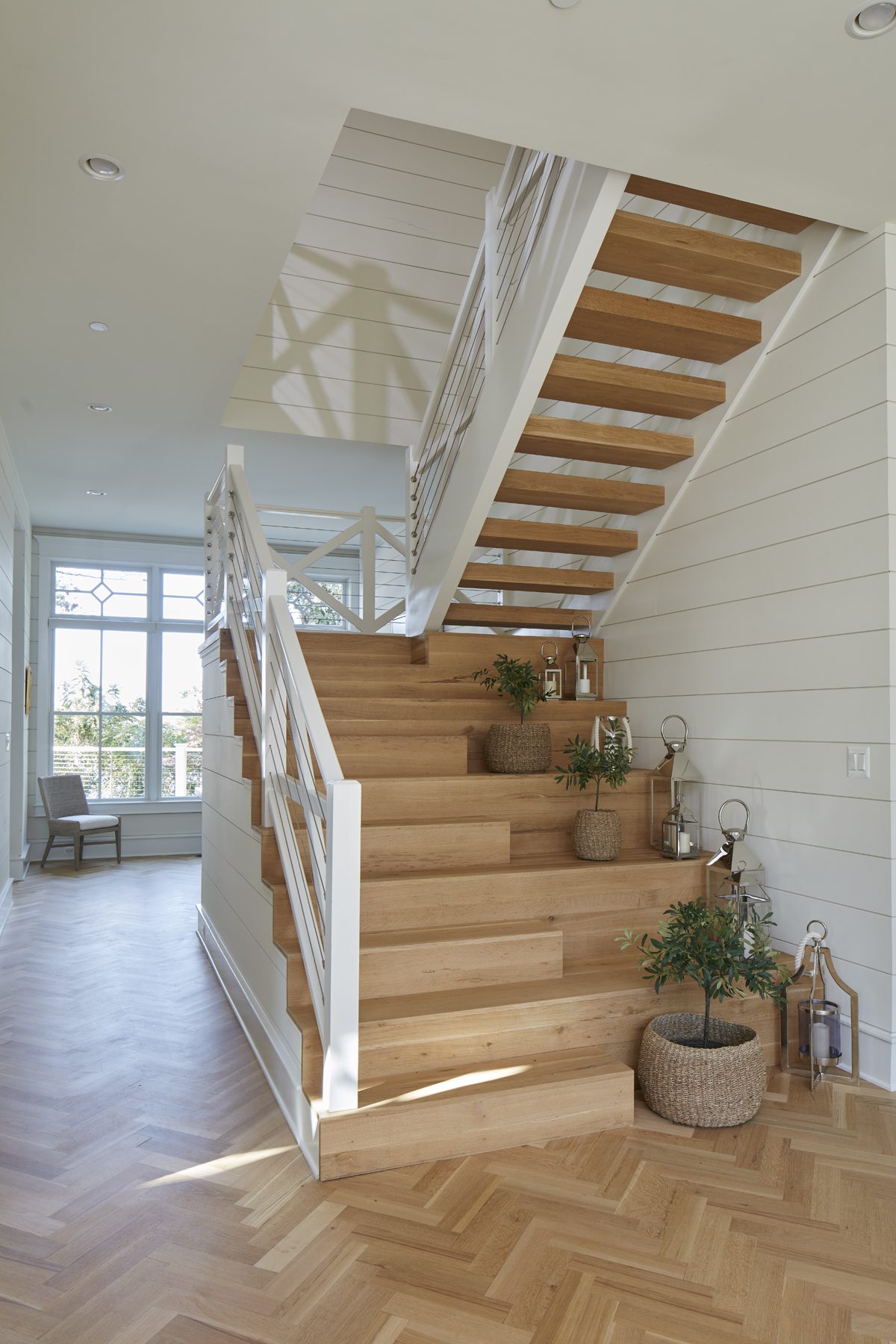 THOUGHTFUL LIGHTING, HARDWARE, & FIXTURES
Here at the shore, we tend to opt for maritime-inspired lighting and hardware, like lantern sconces and boat cleats as cabinet pulls. These little, thoughtful details give our homes a sense of place, without whacking you over the head with it. Think about what makes sense for where you live, and incorporate fixtures, lighting, and hardware that are a nod to whatever that pastime or geographical feature may be. For example, a cabin in the woods would be a perfect place for an antler- or twig-inspired chandelier, or a city apartment could incorporate industrial faucets and lighting.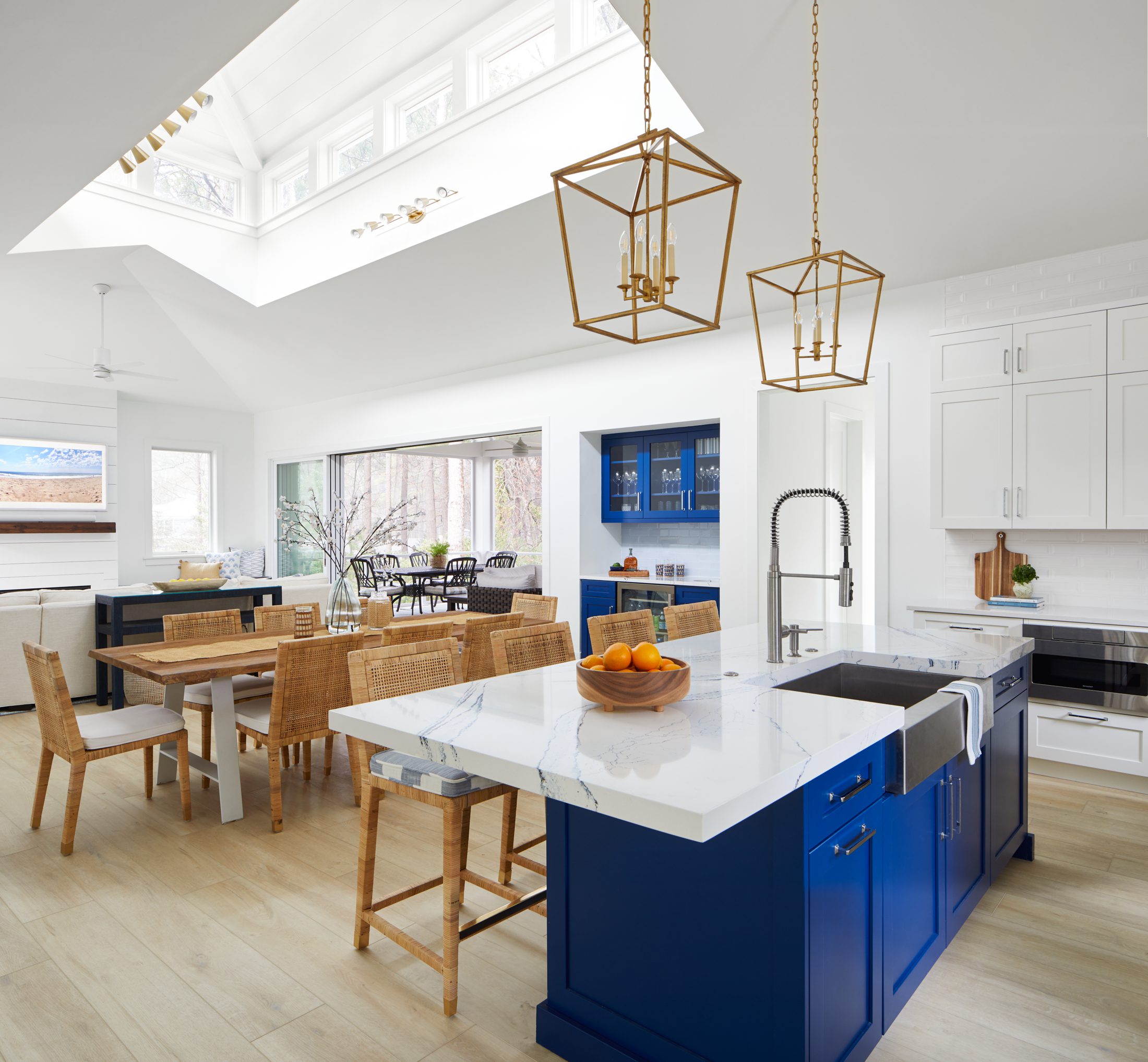 ABUNDANT LIGHT
Coastal interiors are all about light, bright spaces, and embracing natural light wherever possible. That's why we have windows, skylights, and glass doors everywhere, including hallways, stairwells, and showers. Natural light is flattering in any space, and can even improve your mood. If adding natural light isn't an option for you, use artificial lighting to create a similar effect. Make sure each room has the three types of lighting: ambient (or general), task, and accent (or mood). Install dimmers so you can adjust brightness as needed.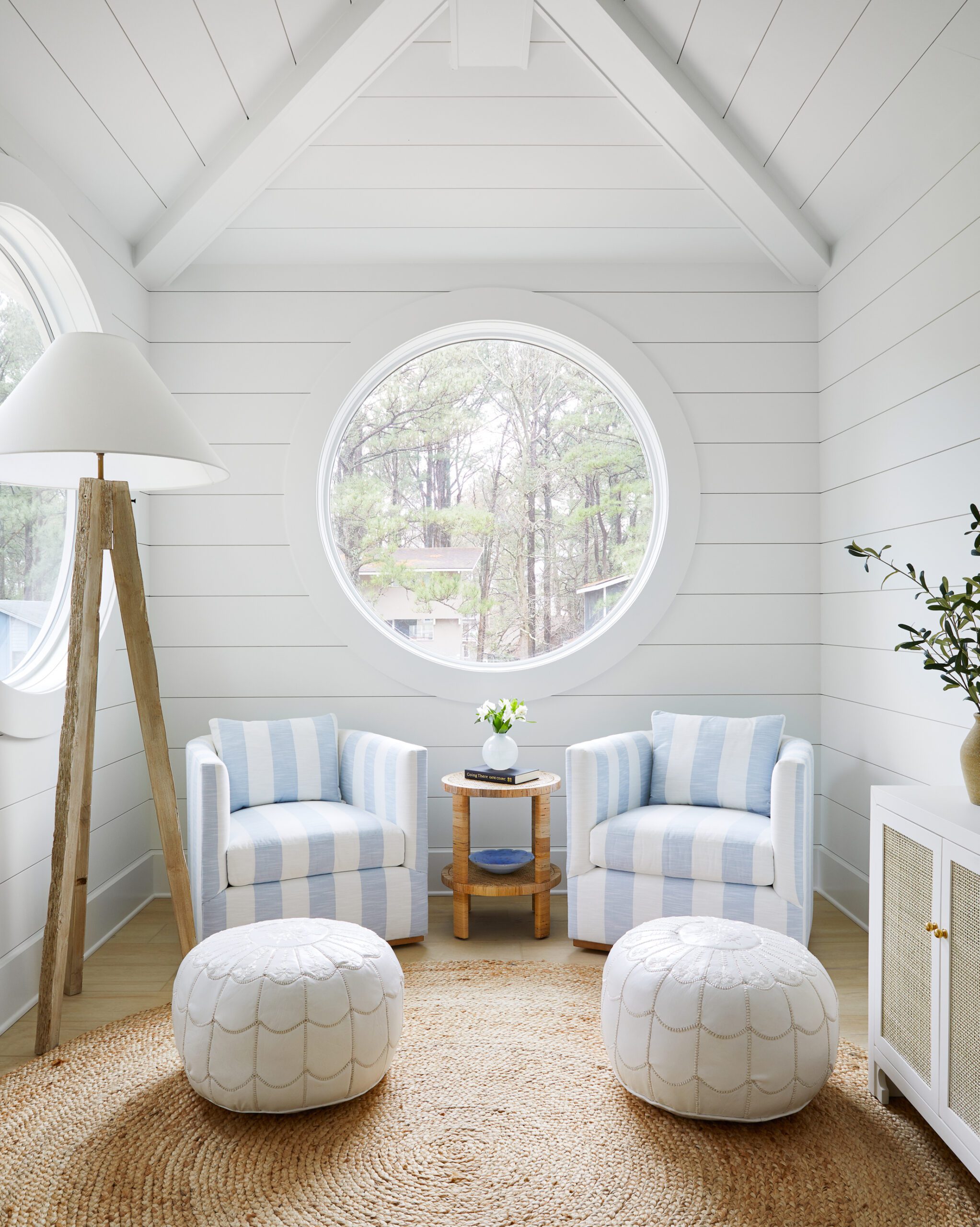 PITCHED CEILINGS
Remember way back at the beginning of this post when I said coastal homes are all about airy spaces? One of the most surefire ways to create that feeling is with pitched (also called vaulted or cathedral) ceilings. Not only does this architectural feature literally create more space in your home, but it also draws the eye up, making the room look as large as it feels. When I build pitched ceilings, I like to dress them up with beams, exposed trusses, shiplap, or other details. Get this same feeling where you live by opening up your ceilings. Older homes often have beautiful beams that can be exposed, or you might be able to open a top floor to the rafters to create a sense of grandeur. Just make sure your home is still properly insulated.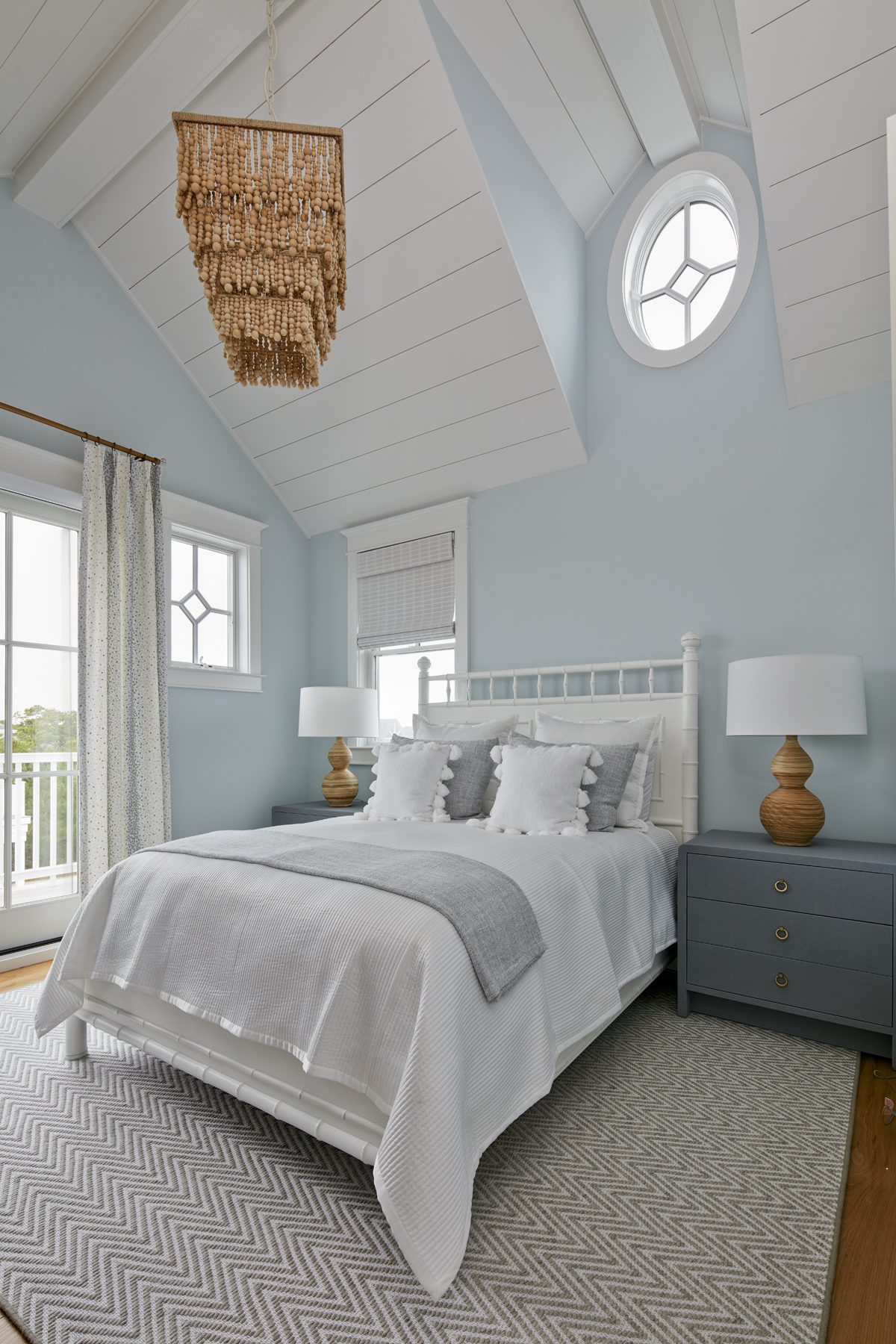 OPEN & UNCLUTTERED SPACES
Building a home from the ground up means I can design the layout, and at the beach, the number one request is an open floor plan. Homes here are built for entertaining and enjoying family and friends, and open concept spaces are the most conducive to doing so. If you can remove some non-load bearing walls, go for it! If that's not an option, or if you prefer separate spaces, get a similar feeling by decluttering. The beach vibe is all about light and breezy, and there's nothing light or breezy about a space full of unnecessary objects.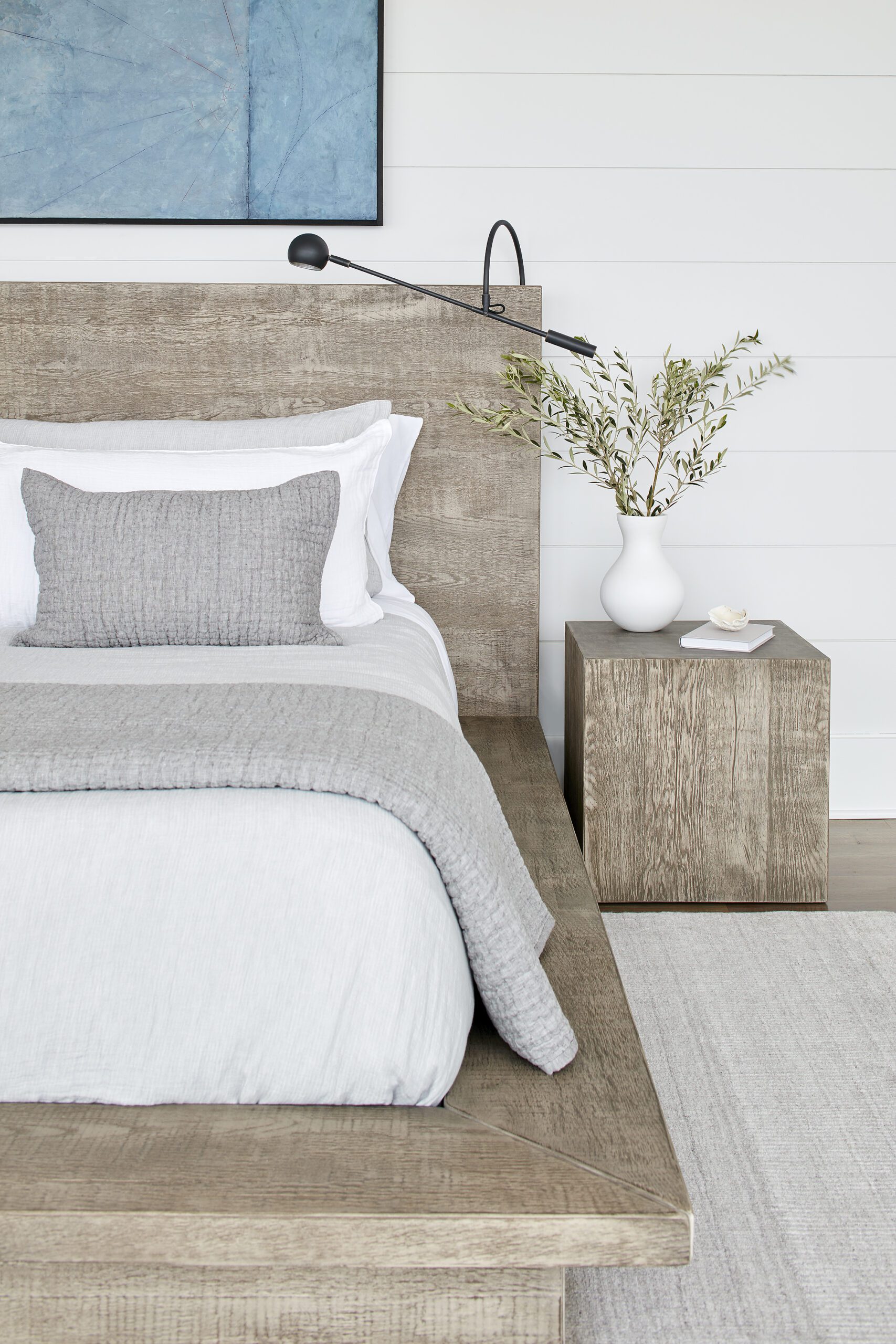 EASY CARE FLOORS
The same reasons that beach people love their slipcovers also apply to our floors – all that time spent in the sand and surf, entertaining loved ones, and just living in our spaces can wreak havoc on the floors. That's why we opt for easy-to-clean and low-maintenance flooring like hardwood and tile in high-traffic living areas. Bring this same laid back vibe to your home by selecting flooring that doesn't require you to walk around on eggshells. After all, it's not just sand and water that destroy flooring – it's children, pets, and just life in general! Want the best of both worlds? Install wood-look tile for the feeling of wood with the easy care of tile.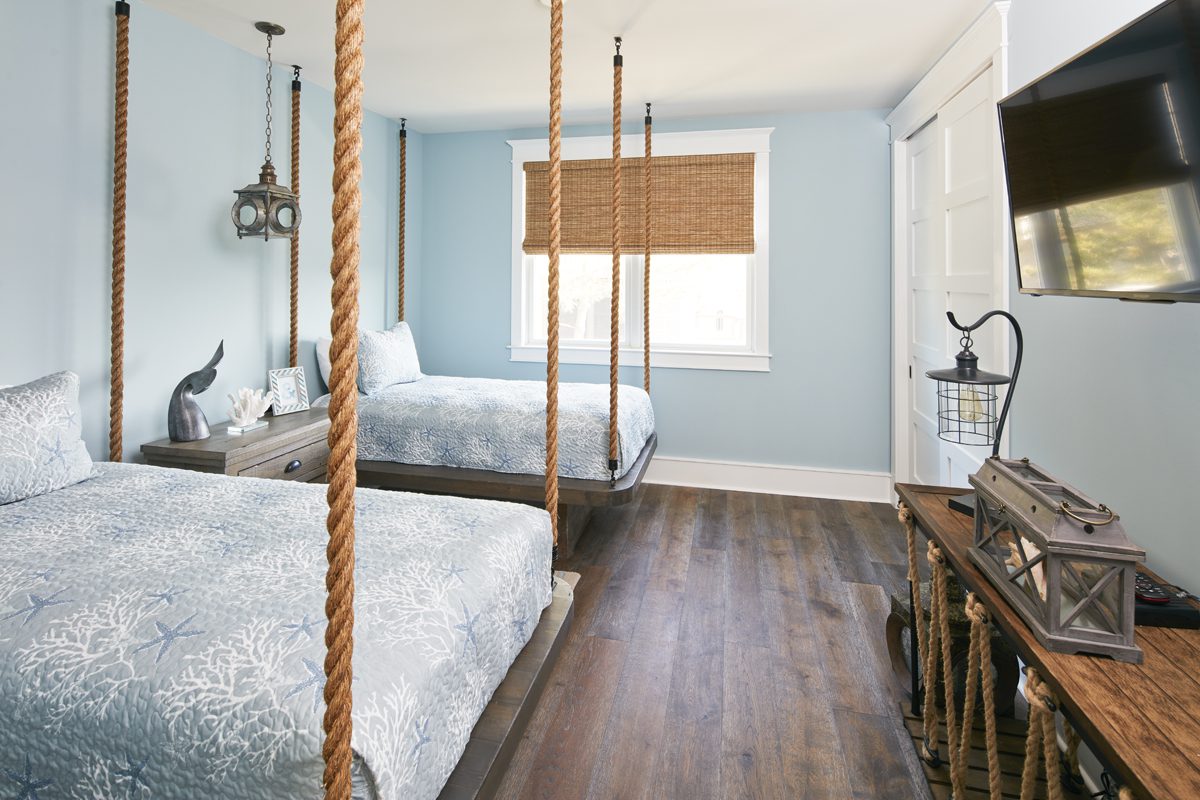 FOUND OBJECTS
Beachcombing is pretty much a prerequisite for coastal living. With so many beautiful treasures washing up on our shores each day, why not use some of them as decor? To avoid looking too cliché and theme-y, we use these finds only as accents. Do the same where you live. Make nature walks a new family habit (or a solo activity) and then display the best of what you find. Use larger objects on coffee tables or atop a stack of books, and create groupings or collections of smaller ones on a shelf or in a bowl, glass cloche, or other vessel.
INDOOR-OUTDOOR LIVING
Coastal dwellers live where they do because they love the ocean, and they want to enjoy it as much as possible. That's why homes here have tricked-out backyards, multiple decks, and porches galore to create true indoor-outdoor living. But the ocean isn't the only outdoor scenery worth savoring. Whether you have mountains, lakes, deserts, fields, or the urban jungle outside your door, create your own space where you can appreciate it. From a poolside paradise to a tiny city fire escape, there are a few problems that can't be alleviated with a breath of fresh air.
With love from the beach,